Last update: Mar 21, 2023 @ 5:29 pm
The Perfect South of France Vacation Package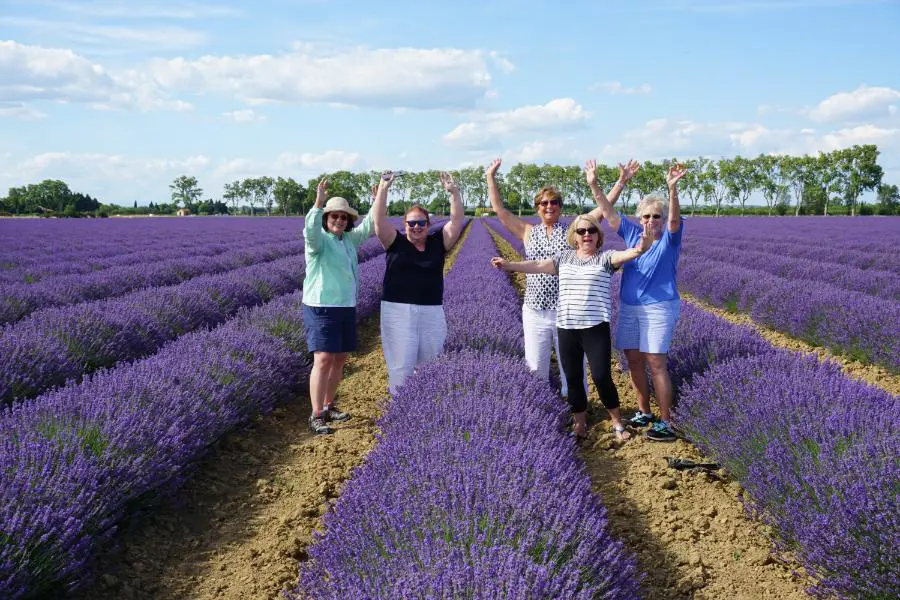 Are you thinking of visiting the south of France? Not only is the southern part of France packed full of beauty and history, but the food and culture are hard to beat. What is the best Perfect South of France Vacation Package to experience all this area has to offer?
Sure, you could go alone and plan your trip yourself, but you will miss sites and experiences only a local can provide. You could also choose a large tour company, but many of those are lacking personal experiences. They also negatively impact the environment with their big busses and disposable headphones. Your best option for seeing the South of France through the eyes of a local is to travel with a small group tour designed by the locals themselves.
Let Julia and Stephane, with their knowledge and expertise of the area, help you achieve your French trip of a lifetime. One of the ways Trip USA France shines above the rest is that their travel groups never exceed 14 people. Even better, they will take tours with as little as four travelers. Your tour will have the personal touch that can only be achieved with a small group. Not only will you get the opportunity to get to meet the locals but you will also be able to partake in experiences that you would not have been able to create on your own such as eating a homemade picnic in a local winery catered by Julia's mother or enjoying dinner at a local cowboy farm!

The owners and tour guides of Trip USA France want to share with you their culture and traditions. There will be no better opportunity to immerse yourself in southern France culture than with two local tour guides who are at your cultural service. Trip USA France is committed to providing its travel guests with an unforgettable French experience.
Perhaps the best part of booking with Trip USA France is the zero stress you will feel as someone else plans your trip. No more worrying about missing must-see sights, transportation hassles, and booking complications. When you book with Trip USA France, they plan the entire vacation from hotels and most meals to transportation and admission fees. All you need to do is get to them, and they will do the rest. An additional bonus is their insider knowledge of the best and most traditional restaurants that ensure their tour guests get to experience all that France has to offer the palate.
Trip USA France offers amazing tours for anyone looking for a genuinely unforgettable south of France experience. They offer two different south of France packages that are each incredible in their own way. No matter what you hope to see on your trip to the south of France, one of their tours will be exactly what anyone looking to experience the south of France would want.

9-Day South of France Tour
For the ultimate tour of the southern regions of Provence and Occitanie during the months of April, May, June, and September, consider Trip USA France's services. Not only do they pack in tons of exciting sights and experiences, while also providing a relaxing time, but they also bring in a personal touch that no other tour company can compete with. One of their most popular events of the tour is a French picnic catered by Julia's mother. If that doesn't give you a firsthand experience of French cuisine and culture, nothing else will. Along with this, enjoy the Roman monuments in Arles', the unique art venue built in quarry-Lumieres; and the beautiful city of Avignon, among many other amazing sites and experiences.

9-Day South of France: Lavender Special
This tour only runs in July when the lavender fields of Provence are in their resplendent glory. This tour package is much like the standard 9-day with a lavender twist. Roam the village of Sault and take in the sweet scent of lavender and other native aromatic herbs. Make your own essential oil from lavender you pick yourself while in Sault. If you have ever wanted to see the famed lavender fields of Provence, this is the tour for you.
Besides there set dates itinerary Trip USA France also creates private custom tours. Let them know your budget, the number of people, your dates and your interests by filling out this quick questionnaire and they will create a vacation that you will remember for years. From luxury to low key to boutique hotels to theme tours thanks to their extensive knowledge of the Southern France and a full address book they are able to tailor tours that will match our surpass your expectations!

One thing is clear, Julia and Stephane with Trip USA France have the knowledge, expertise, and passion for offering any and every traveler looking for a south of France vacation in which they never want to leave and can't stop thinking about for years.

Sharing is caring!
[social_warfare]
---