TripUSAFrance Rated Perfect 5/5 Tours!
You can click each of the boxes below to be taken to our online reviews posted across different websites throughout the years by people who have come on our tours to learn more about the experience we give you!
This tour was like a local friend taking you to her favorite sights, wineries and restaurants in the South of France! It was intimate and slower paced than the big... read more tours. Some highlights on the tour included a picnic at a winery with Julia's mom's homemade cooking, singalongs and games of pétanque; very tasty restaurants; and lighted art installation in a quarry cave — a very cool experience! More than I could have imagined!!!

Plenty of evenings on your own to eat at the many restaurants in Palavas or go downstairs to the Hotel Les Coquilles wine store for a bottle of wine, around the corner to the bakery and market for my charcuterie plate ingredients! I enjoyed that on my balcony overlooking the Mediterranean several evenings which was perfect way to end the day.

Palavas is a quaint resort town with old town charm. Before I arrived I thought there wouldn't be enough to fill the free time but I fully enjoyed strolling the beach and the canal area. It was the perfect pace for me!

Hotel Les Coquilles, it is CUTE & clean and modern boutique hotel just steps to the beach! The owners are so pleasant and accommodating!

Julia and her father Stephane were the perfect hosts fun & full of laughs! I highly recommend TripUSAFrance! I hope to return for another of their tours!

Melanie F


October 12, 2022

The BEST way to see the South of France - This tour of the south of France was one of the greatest adventures I have experienced. I have travelled a lot and by far this was the most interesting trips... read more I have taken. Not only did we see historic sites but we also learned lessons along the way. The highlights of the life of Vincent Van Gogh was so enlightening, including the visit to the asylum where he was treated.

Everything was included in the tour. Our boutique hotel, La Coquille, was overlooking the Med, beautifully appointed rooms and breakfast to die for. While on tour in the different villages and cities lunch and some dinners were eaten as a group and the meals were awesome. Julia , our host, put together dining venues that were a delight.

I can without a doubt thank Julia and her dad Stephan for their driving skills , incredible knowledge of the country and the kindness they showed to everyone. And a huge thanks to Julia's Mom for putting together a wonderful picnic lunch at a local vineyard.

I worked as a Travel Agent for many years and without a doubt I would recommend TripUSAFrance every chance I could. Julia has put together one of the best organized tours I have ever been involved in. I have recommended this tour company to anyone who is interested in a holiday where you can actually learn something.

568dawnb


September 1, 2022

The ONLY way I'll ever tour with group! - I found TripUSAFrance while researching individual cities for what was going to be a "do it yourself" tour of the south of France. I'm so glad I didn't try to... read more do this myself. I never would have known about some of the great experiences Julia and her family/crew packed into 10 days. Castles of the Knights Templar, gorgeous villages in the mountains, learning to play petanque at a winery - plus the stuff that "normal tourists" get to do. It was a great mix of activities, excellent food, and only 14 guests. Julia is an excellent tour guide and the guides she hires for some settings (such as in Arles) are subject matter experts who bring lots of expertise and fun stories to the tour. We stayed in a boutique hotel that was dedicated to our group, so we felt pampered and well-cared for the whole trip. If you don't like big tour groups, but don't want to do it all yourself, this is a perfect alternative.

960karlas


August 24, 2022
Pictures Are Worth A Thousand Words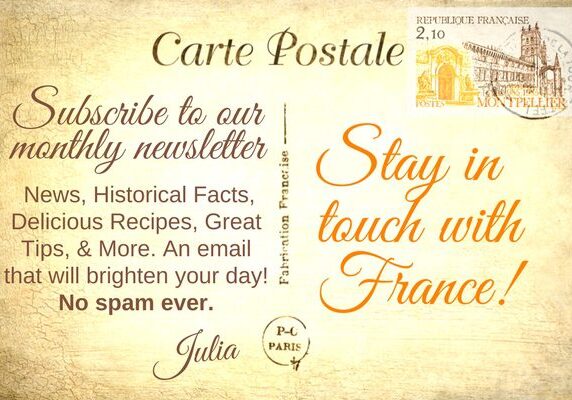 Subscribe to our monthly newsletter!