Experience Normandy For 6 Days
Breathtaking, Magical, Authentic
Normandy is a land rich with history, culture, and scenery. Since the times of the Viking invasions, Normandy has been at the center of many major historical events in France. It was the home of powerful figures such as Rollo, Richard Lionheart, and William the Conqueror. It is also known for famous painters such as Claude Monet and Eugene Boudin. And no one can forget that it is here where the Allied forces landed on D-Day in WW2.
On our 6 day tour, you will stay in the wonderful historic town of Bayeux and have the perfect amount of time to experience the highlights of Normandy. You will gaze in awe at the Mont St Michel. Learn intricate details of WW2 at the sites where the battles took place. Explore the market at the historic port in Honfleur. Enjoy a tasting of Calvados, the famous drink of the region. Discover a fabulous chateau that has remained in the same family for centuries. Walk in the streets of Rouen where Rollo the Viking who was the first Duke of Normandy ruled. See the famous Japanese footbridge and walk through Monet's private home and gardens. 
Come with us to discover this beautiful region and fill your vacation with these unforgettable experiences and more!
Normandy Tour 2023/2024 Calendar
New Schedule: Most of our Normandy tours and South of France tours can be combined! Simply book the South of France tour starting the day your Normandy tour ends and book your train or flight to Montpellier from Paris to be picked up in the afternoon before the tour starts with the Welcome dinner!
New Schedule: Most of our Normandy tours and South of France tours can be combined! Simply book the South of France tour starting the day your Normandy tour ends and book your train or flight to Montpellier from Paris to be picked up in the afternoon before the tour starts with the Welcome dinner!
Remaining Tours:
Monday Sept. 11th to Sunday Sept. 17th (SOLD OUT - JOIN WAITLIST)
Monday Sept. 25th to Sunday October 1st (SOLD OUT - JOIN WAITLIST)
Monday October 9th to Sunday October 15th (SOLD OUT - JOIN WAITLIST)
Wednesday April 24th to Tuesday April 30th > (13 SPOTS LEFT)
Wednesday May 8th to Tuesday May 14th > (SOLD OUT)
Wednesday May 22nd to Tuesday May 28th > (SOLD OUT)
Monday June 10th to Sunday June 16th > (SOLD OUT)
Wednesday June 19th to Tuesday June 25th > (14 SPOTS LEFT)
Wednesday July 3rd to Tuesday July 9th > (14 SPOTS LEFT)
Wednesday July 17th to Tuesday July 23rd > (16 SPOTS LEFT)
Wednesday July 31st to Tuesday August 6th > (14 SPOTS LEFT)
Wednesday August 21st to Tuesday August 27th > (9 SPOTS LEFT)
Wednesday September 4th to Tuesday September 10th > (2 SPOTS LEFT)
Tuesday September 17th to Monday September 23rd > (SOLD OUT)
Monday October 7th to Sunday October 13th > (10 SPOTS LEFT)
When is the best time to travel to Normandy?
Summer! It is not hot or crowded. Normandy is generally a cold and rainy region but during the summer it is much nicer. June to August are the optimal months with the least rain and the most favorable temperatures, but May, September, and October are also great for visiting!
Summer is not hot in Normandy. The average high in July and August is 73 degrees Farenheit! The temperatures are mostly comfortable during the day and cool at night. As for crowds, there are almost none. The WW2 sites are very large and spacious and the cities and towns are not densely populated or overrun with tourists. The only place that is uncomfortably crowded (year round almost) is the Mont St Michel. However, we go there early in the morning to avoid the crowds. 
What's On The Tour?
Not only the most famous sites but also many hidden gems that others are missing out on!
Bayeux
You will stay in the city center for 5 nights during the tour in a great location so that you will be able to walk to and enjoy all the shops, restaurants, and museums that Bayeux has to offer. This charming city retained its old architecture
» Read More
by closely escaping destruction as the Allied bombing of the city was called off at the last minute and became the first liberated city of France during the D-Day invasions.
» Close
Mont St Michel
One of the world's most stunning attractions, dramatically soars into the sky off the coast of Normandy. Some of the highest tides in Europe swoop around the island. The homes and shops of the medieval town date back to the 15th and
» Read More
16th centuries. Mont St Michel is in a shallow bay, making it the ideal location for monks who were seeking solitude, and today has a monastic community. Visitors to the island are rewarded with panoramic views of the abbey and bay by climbing to the ramparts. The view from the ramparts is spectacular and the architecture dating back to the 11th-century and Gothic buildings make Mont St Michel one of Normandy's most beautiful attractions.  
» Close
American Cemetery & Omaha Beach
Stand on the beach where the American forces landed in France with an expert WW2 guide and learn intricate details of how the Allied forces were able to overcome the German defenses on the battle of D-Day.
» Read More
The American Cemetery is dedicated to the thousands of American troops who lost their lives on that fateful day, one of the most moving experiences.  
» Close
Honfleur
One of the loveliest ports on the Seine estuary is Honfleur. The Vieux Bassin or Old Dock, is one of the most picturesque areas, with elegant sails boat anchored in the harbor, cobbled streets, slate-grey facades, and dozens of restaurants with
» Read More
outdoor terraces; perfect for people watching. For decades artists such as Monet, Courbet, Cals, Boudin, Bazille, Sisley and Jongkind have flocked to the region, which is evident in the many galleries of Honfleur. 
» Close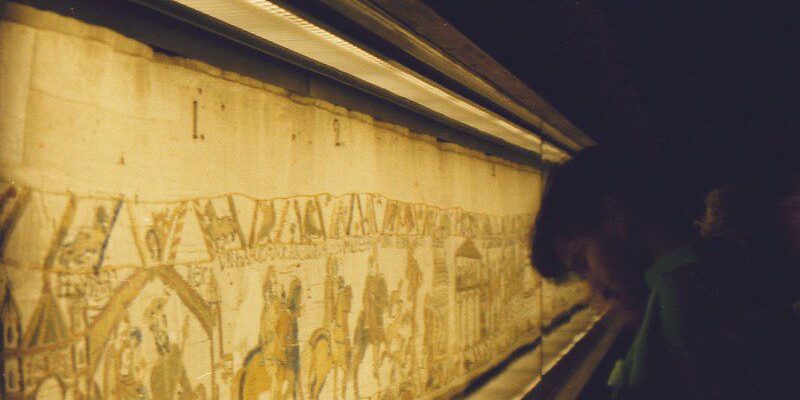 The Bayeux Tapestry
Finished around 1077, the Bayeux Tapestry is displayed in a special museum in Bayeux. It is 1.6 feet high and a whopping 224.3 feet long and reads like panels from a graphic novel complete with Latin descriptions of the events of 1064 to 1066, beginning with
» Read More
King Edward the Confessor sending Harold to Normandy and culminating in Duke William's invasion of England and the Battle of Hastings. The tapestry is encased in a long glass case in the museum and you can walk the length of it.  
» Close
Rouen
Rouen has been the capital of Normandy since it was a duchy ruled by Rollo the viking. Many landmarks and medieval half-timber houses escaped the destruction of WW2 and now make up the old town district including one of the
» Read More
oldest clocks in Europe and the Rouen Cathedral, famously painted by Monet. This Cathedral is also the resting place of many famous figures including Richard the Lionheart and Rollo. The center of the old market square holds a cross which marks the location where Joan of Arc was burned at the stake after her imprisonment and trial in the city. 
» Close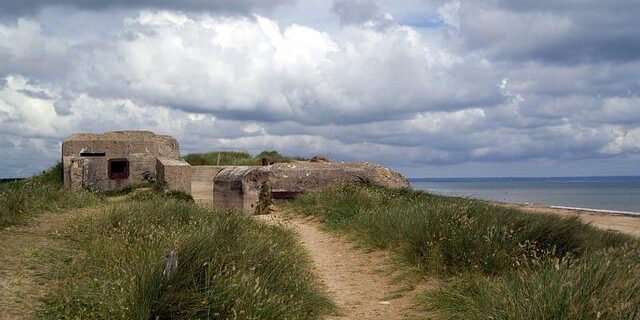 Utah Beach
One of the key landing areas for the Allied forces on D-Day. Learn how the US Army quickly took this beach and avoided the heavy casualties that happened on Omaha. As part of the WW2 visits on the tour, you will discover
» Read More
an overall understanding of Operation Overlord that occured on D-Day.
» Close
Pointe du Hoc
During the Normandy landing, the United States Army Ranger Assault Group attacked and captured Pointe du Hoc after scaling the cliffs, one of the most heroic acts on D-Day.
» Read More
The Pointe du Hoc is now a monument and one of very few places in Normandy where the craters left by bombing can still be seen. 
» Close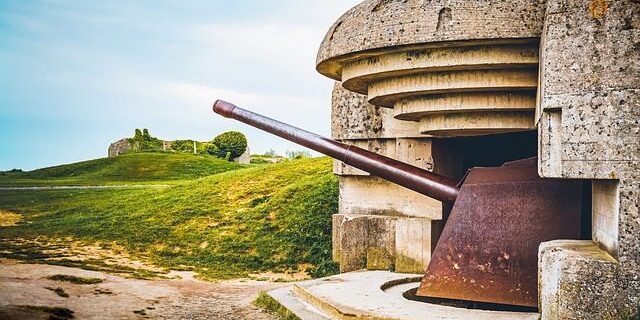 Longues-Sur-Mer
The only German Battery in the Atlantic Wall to retain it's original 150mm cannons still intact. This well preserved wartime site provides an up close learning experience and magnifies the challenge the Allies faced of breaking through the German coastline defenses.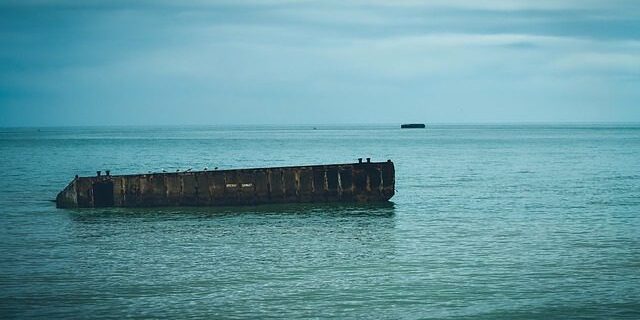 Mulberry Harbor at Arromanches
After D-Day, the Allies built an artificial harbor to calm the waters so that ships could bring in more troops, supplies and equipment. At Arromanches-les-Bains, remnants of the harbor are still visible standing in the water today.
» Read More
Here you will learn about the major project of constructing this artifical port, known as a "Mulberry Harbor" and its significance to the Allied operation to liberate France and defeat the Nazis. 
» Close
Monet's House in Giverny
The first impression of visitors to Monet's home is the vibrant colors throughout. In the gardens countless types of flowers and plants bloom to create the natural masterpiece which would serve as the inspiration for many of his paintings.
» Read More
The painter lived here in the city of Giverny, from 1883 until 1926, which was the inspiration for his water and flower garden paintings and his use of soft pastels. Monet's studio where he worked until 1899 is on the ground floor along with the charming, blue sitting room. Get a glimpse into the artist's life in his private apartments. The dining room and kitchen have been restored to look as they did when Monet was alive, and the crockery that he ordered for special occasions still sits in the glass cabinets. An extensive collection of Japanese prints is also on display in his home.  
» Close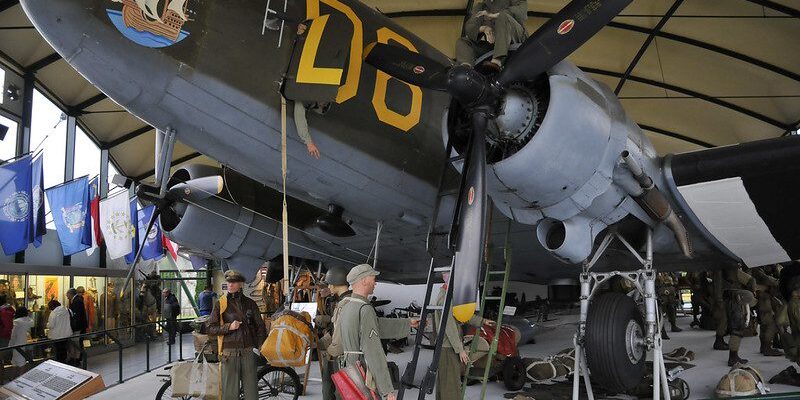 Normandy Airborne Museum
The interactive nature of the museum along with the information and stories presented with authentic artifacts such as planes, equipment and weapons, helps to live the experience of the soldiers and makes it a must see site in Normandy.
Sainte Mere Eglise
One of the famous scenes in the movie "The Longest Day" where paratrooper John Steele got stuck on the church took place here during WW2. The 82nd and 101st Airborne divisions landed here and made it the first liberated town in France during D-Day.
» Read More
You will learn about the battle that took place here, why it was a key objective for the Allied forces, and more. 
» Close
Rouen Cathedral
The Cathedrale Notre-Dame de Rouen is nothing short of spectacular in historical significance and sight. It is also the resting place of three Dukes of Normandy: Rollo, William Longsword, Richard the Lionheart, and other figures.
» Read More
It was also famously painted by Monet in a series. It stands out with its 3 distinctly constructed towers all in a different style, and for being the tallest cathedral in France.
» Close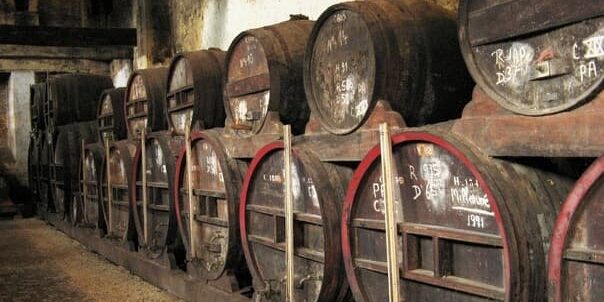 Calvados Distillery
A special treat on a trip to Normandy is a visit to a local Calvados distillery, which is famous for its exceptional apple brandy. On a trip to the distillery, you'll learn about the intricacies involved of fine liquors, calvados, and pommeau.
» Read More
The liquid is distilled in oaken casks to give it the distinctive flavor and deep, rich color as it ages. You'll visit the cellars and stills and enjoy a tasting session. Now you are a true Normand!  
» Close
French Market
Visit the local market to see the offerings of the farmers and artisans of the region and have the chance to find a souvenir or two and meet and talk with the locals. This is a great way to make a connection with French culture and support local small business, if you wish!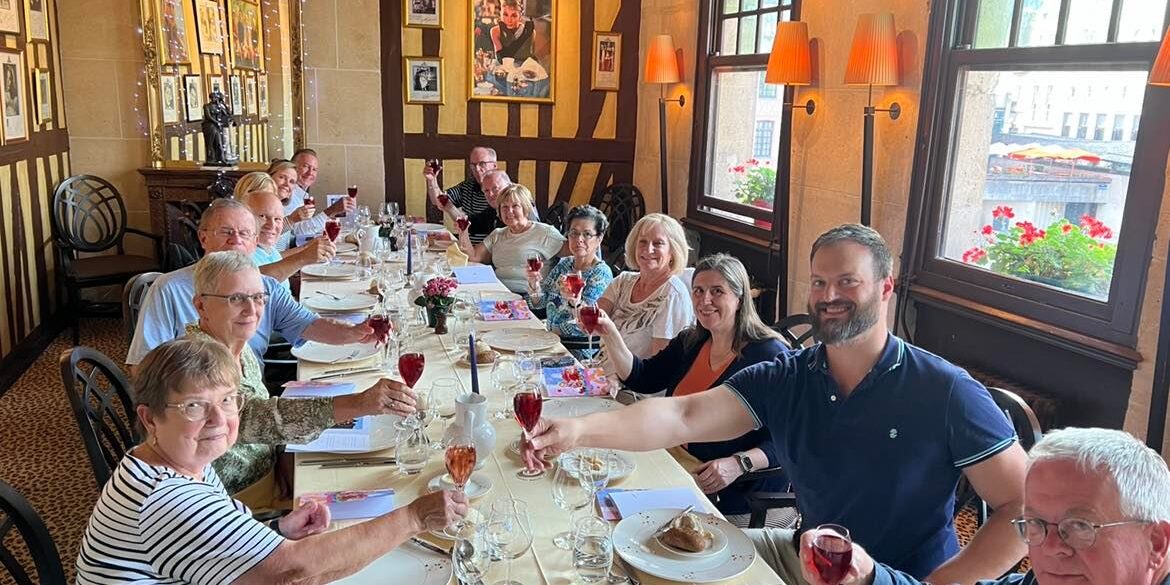 Fabulous Restaurants!
In a country so well known for its food, any trip to France should also include a culinary tour for your tastebuds! This is why we handpick restaurants that feature a variety of our favorite French dishes and make sure you have an excellent experience.
Local Guides!
You will have a main local expert guide, and meet others at specific sites that can tell you intricate details of each location's history. Personal attention is paid to all of our guests and our years of experience and living in France means you get to see best France has to offer. We can't wait to welcome you to France and share our cultural knowledge!
What's Included?
Almost everything is included, that's easy!
Local tour guide with you throughout the tour
6 Breakfasts, 6 Lunches, 3 Dinners

One Drink of Your Choice (wine, beer, or soft) With Each Meal Included on The Itinerary

Transportation to All Sites / Activities

All Guided Tours or Audio Guides

Personal Help To Book Your Flight & Plan Your Trip
Extra Food/Drinks Not Included In Our Selected Menus

3 Dinners (restaurant recommendations provided)
Travelers Insurance (you will receive a quote 24 hours after booking)

Accommodations
5 nights in Bayeux and 1 night near Charles de Gaulle Airport!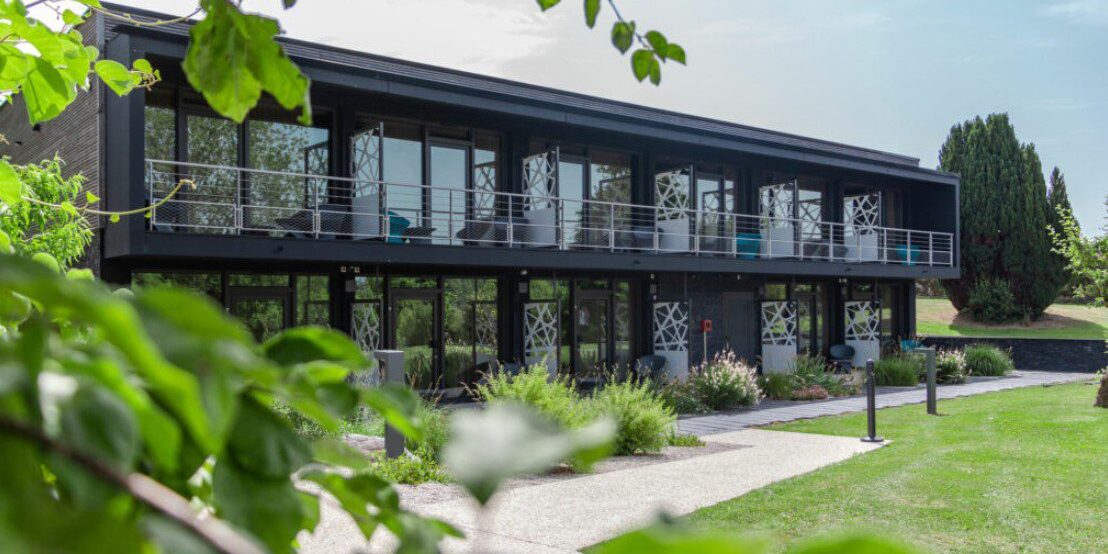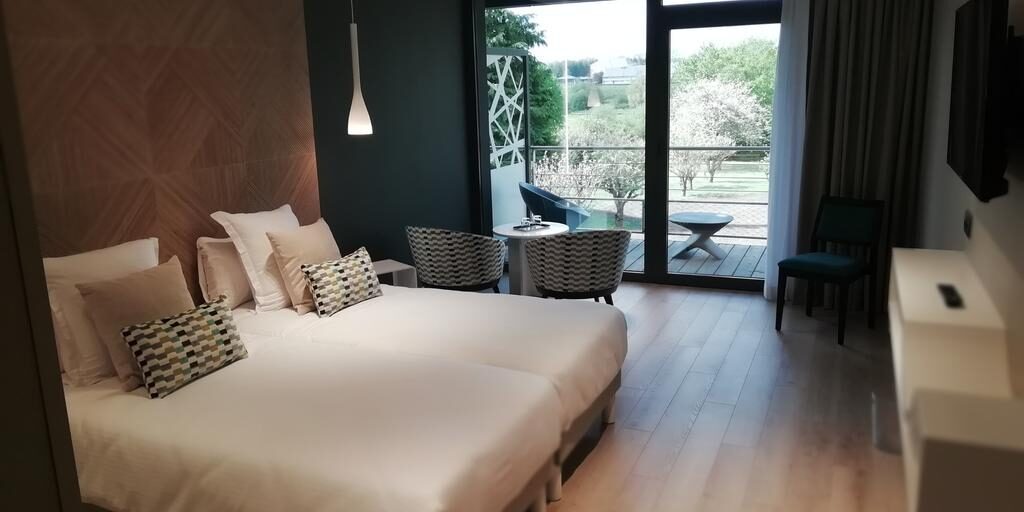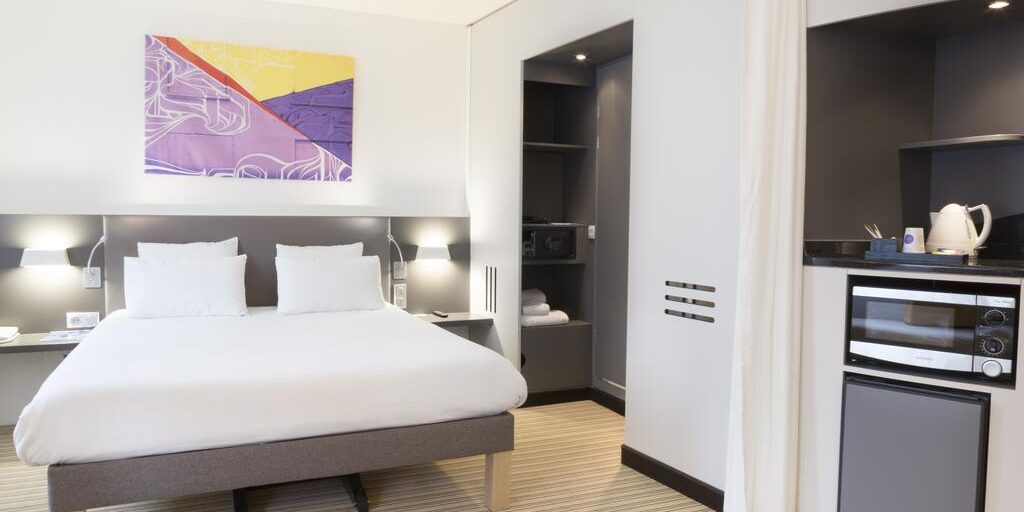 Hotel Domaine de Bayeux (5 Nights) - Airport Hotel near CDG, Paris (1 Night)
6 Day Normandy Tour Price
No surprises, no hidden fees. Travel hassle-free!

SINGLE ROOM

USD $4,095/PERSON

BASED ON 1 PERSON PER ROOM
6 HOTEL NIGHTS INCLUDED
6 BREAKFASTS + 6 LUNCHES + 3 DINNERS
ALL VISIT FEES + TRANSPORTATION INCLUDED
EXPERT LOCAL GUIDES

2 ADULTS ROOM

USD $3,595/PERSON

BASED ON 2 PERSONS PER ROOM
6 HOTEL NIGHTS INCLUDED
6 BREAKFASTS + 6 LUNCHES + 3 DINNERS

ALL VISIT FEES + TRANSPORTATION INCLUDED
EXPERT LOCAL GUIDES

PRIVATE GROUP
Group Price
GROUPS 10+
CUSTOMIZED TOUR
6 HOTEL NIGHTS INCLUDED
6 BREAKFASTS + 6 LUNCHES + 3 DINNERS

ALL VISIT FEES + TRANSPORTATION INCLUDED
EXPERT LOCAL GUIDES
Rated 5/5 Tour By Our Previous Travelers
They have already done this tour. Read what they thought about it.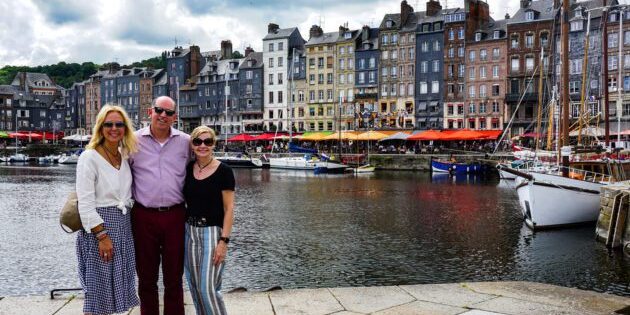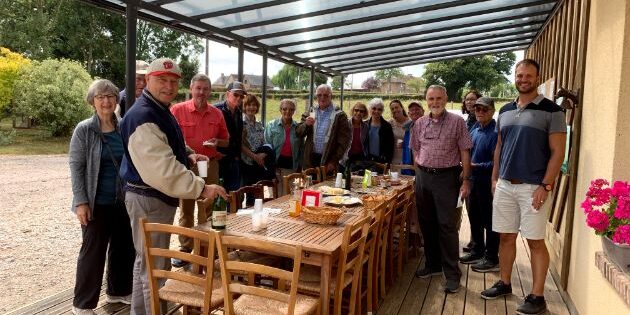 Brenda C.   Normandy Tour
Normandy, France has been on my husband's bucket list for years. We could not be more pleased. The itinerary from the time they pick you up at the Charles de Gaulle airport until the end of the tour is nothing short of perfection. It's all planned and your only responsibility is showing up in the hotel lobby at the designated time in the morning and then you're off on a full day's adventure. [...] The beaches of Normandy and the American cemetery was a real highlight of the trip. We visited chateaus, enjoyed a Calvados tour and tasting, loved our cheese factory tasting [...] I could write so much more. Julia and Stephane's tour is a real find. They advertise, "See France like a local" and it is exactly what we did!
Bill G.   Normandy Tour
If you really want to experience and enjoy Normandy, sign up for a tour with this outstanding family-operated company. Julia, her friend Peter, and her father Stephane will personally escort your small group to the major sites, e.g., the World War II beaches and Mont St. Michel, as well as many locations that you would be unlikely to discover on your own. Examples include lunch at a country farmhouse, a visit to a small farm which is the last to make authentic Camembert cheese, and a first-class dinner at a racetrack. Their attention to detail in choice of hotels, restaurants and knowledgeable tour guides was exceptional. [...] We could not recommend TripUSAFrance more highly.
Dorothy B.   Normandy Tour
My husband and I LOVED!! touring Normandy and surrounding places with Julia, her charming dad, Stefan, and friend Peter. They made us feel like we were part of their family. Each restaurant, hotel, tour guide ( they hire the best) was carefully selected and they went over and above our expectations to make it a wonderful experience for all.
Each day was meticulously planned and we could have never seen and experienced all that was offered on this tour on our own. This was our first time touring with a group and I would recommend it highly!!
Discover Our Other Tours
From Provence, to Dordogne and coming soon Greece!
You can reach our office at 703-375-9548. We are based in the United States and we are open Mon-Sat, 9:00am - 6:00pm.
We would love to hear from you! Don't hesitate to message us with any questions that you may have.
Stay connected with TripUSAFrance on Facebook where we love posting pictures about France and our tours.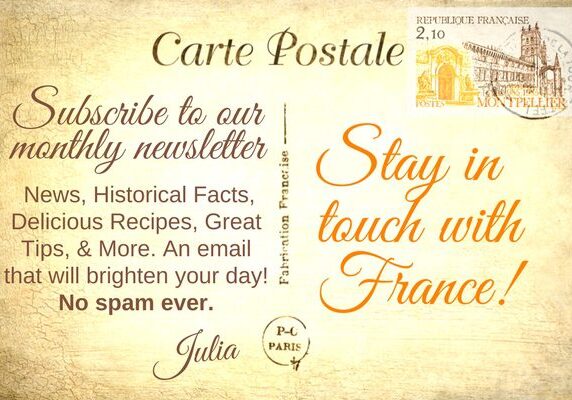 Subscribe to our monthly newsletter!