Our Tour ✓
---
• Small groups up to 15 people (can privatize!)
• More mobility, blend in with the crowd
• Your tour guide is your local friend
• Stress-free, no hassle, return home rested
• Available to help you every step of the way
• No time wasted on long road trips
• Get to learn some French
• Handpicked restaurants every time
• Fun activities to meet the locals are all included
• Adult only groups (teens allowed w/ parent)
NOTE: All ages welcome if you have a private group

More Details About Our Philosophy Below
Their Tour ✘
---
• Huge crowd of 25 to 50 people
• Feel like an outsider in a travelling mob
• Tourist traps
• Early departures, tiring trips 
• Can't help all 50 people
• Lots of waiting, endless hours stuck on a bus
• Busy tour guide, no time to talk
• The hotel restaurant, not again...
• Pay for the options
• One group, all ages
Travel as a Local

Our mission is to help you experience the wonderful French culture and share good times. Traveling is not just about the history and the monuments, it's also about experiencing a new culture. That's why we include fun and unique activities such as the visit of a local Ranch followed by dinner at the farm, French picnics, games of Petanque and much more. (See each tour individually for a list of the activities part of the tour.) Plus you will have the expertise of a local guide (friend) all along the tour that know all the secrets of France!
> Read about our tours to see exactly what fun activities will be included!
Your Tour Guide, Your Friend
Our expert local guides will share with you their culture and traditions and show you the hidden gems of France. From Provence & Occitanie to Normandy or Bordeaux & Dordogne we have a wide range of small group tours available. Since we only put together groups of up to 14/15 people you will get plenty of attention from your tour guides to help you along your journey and answer all your questions. We truly believe that we are more than just tour guides, we are your French friends that you are coming to visit and hope that you will come visit again one day!
A True Vacation
We make sure that our journeys are full of amazing sites and unforgettable visits while also allowing breaks and free time to relax and be by yourselves. Departure time from the hotel won't rarely be before 9:00 am, we allow enough time to really explore each site that we visit, no need to run place to place! We average driving 1 to 3 hours total per day so you spend less time on the road and more time enjoying France! Plus you don't have to worry about anything, everything is already planned for you. What a true vacation!

Quality Restaurants
Traveling is a fun way to discover new meals and new cuisines and at TripUSAFrance we make sure that each meal is up to satisfaction. You get the perks of a food tour while being on a historical tour! We selected for you great authentic French restaurants that we have personally tried and approved of. We want you to enjoy trying all the different food France has to offer, so we won't ever take you to the same place twice! If you are a Vegetarian or Vegan or have any food allergies we will always work something (delicious) out with the chef! 
Learn French

Learning French can be easy and fun! If you are interested we will help you learn basic phrases and expressions while you are on tour. Then you can impress the locals and your friends back home while picking up a second language and make your trip more memorable and rewarding! And if you already speak French you can practice your skills with our fluent in French and English guides 🙂
No Surprises!

Our ultimate goal is to make sure that you spend the most memorable time and for that we have carefully planned everything for you. This is a complete stress-free vacation. Our price includes guides, hotel, most meals with one drink of your choice, daily snacks and water, all admission fees for stops on our tour, wine tastings and all the events organized. All you need is to buy your plane ticket and budget for the few diners not included, the extra drinks and your souvenirs! 
Linda F. (Normandy Tour)
"I was impressed with the knowledge of our guide, Jonathan, in all aspects of the tour, not just his wide historical knowledge, but also his eagerness to familiarize us with the towns we visited as well as recommendations for dining on our free evenings. Our group was a great size and everyone was amenable making for a great atmosphere for learning and fun! Christophe was also impressive with his extensive D-Day knowledge. I enjoyed the personal references to people."
Dickie C. (South France Tour)
"It was a wonderful experience and felt like we were traveling with our best friends! We got to see so much and most of it at a local level which is the best. We can't wait to do another tour with this group! Thanks for the best vacation in memory."
Rena B. (South France Tour)
"Not your typical trip - this was a really fun adventure! Our delightful guides Isabelle and Stephane took us to places such as the Camargue ranch and the wonderful picnic with (really fun!) French locals! That we'd never have found on our own - and watching the water jousting competition was an unexpected (and funny) bonus. Our hosts at the hotel were also wonderful :). The meals at each of the uniquely French rustic and refined restaurants were also delicious - and really good wines! This tour was beyond my expectations!"
Joan B. (Bordeaux & Dordogne)
"An unforgettable trip—perfect in every way: fabulous sites, activities and meals. The wine-tasting and education was terrific! Bordeaux is a gem—not to be missed. As a guide, Julia is a meticulous planner and a whirlwind. She is attentive to the needs and preferences of the participants and creates a fun atmosphere, as well."
Sandra S. (South France Tour)
"Julia was an excellent guide and we were made to feel like family. All of the details were taken care of so we could thoroughly enjoy and be immersed in the experience. All of the meals and accommodations were local and top notch. Highly recommend this tour company."
Lynne W. (Normandy)
"With Peter's experience in France, we learned the complex history of the Normandy Invasion, met Claude Monet the gardener and artist, heard the bells and chants at Saint-Mount Michel, the ancient and incredible tapestry of the Battle of Hastings, and lovely Normandie countryside. Wow what a week! BravoTripUSAFrance!"
David W. (South France Tour)
"This was a fantastic time, even better than we imagined! Julia had everything planned to the minute. She was on top of things so we just enjoyed the wonderful food, the sights and camaraderie. Her slogan of travel like a local is so true. We did not feel like we were tourists. We felt like we belonged because everyone was so helpful and friendly. The picnic prepared by Julia's mom was delicious and we always had fun with Stephan, Julia's dad when he drove. We highly recommend this tour to anyone who wants to experience the food, the wine , the culture and the people of Provence!"
Gary B. (South of France Tour)
"This was terrific! We looked forward to each day, as it was different from the day before. It was wonderful to be able to see so much of the South of France and not have to unpack and repack every single day. The small group experience was fantastic. We highly recommend."
Discover Where We Will Take You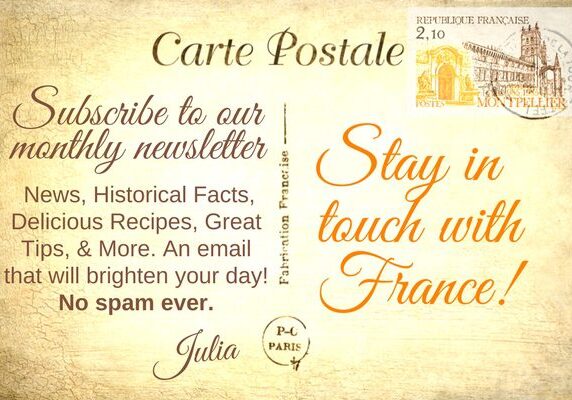 Subscribe to our monthly newsletter!