Captivating Carcassonne
Carcassonne is one of those places that looks even better than it does in photos. The hill top citadel with its pointy turrets looks like a fairy tale castle and the town and countryside that surround it are enchanting.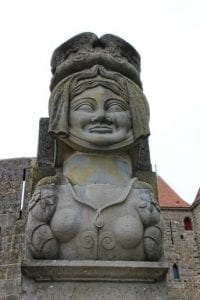 There is a legend about how Carcassonne got its name. It's said that when the Emperor Charlemagne laid siege to the fortified city for five long years in the 8th century he was thwarted by the clever princess who ruled the citadel. On learning that her people had just one pig and a bag of wheat left to survive on, the princess, Dame Carcas, had the pig fed on the wheat and thrown over those famous ramparts. Charlemagne, believing that the inhabitants must have so much food stored they could afford to chuck it away called off the siege. Dame Carcas had the bells of the city rung in victory, "Carcas… sonne" it was said, "Carcas is ringing" – and the name stuck.  Dame Carcas' likeness adorns one of the gates of the magnificent enclosed city, looking down on all who enter. She has quite a smiley face but looks like she wouldn't put up with any nonsense!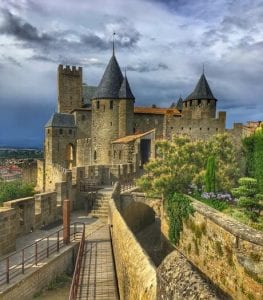 Over 1000 years later, after going through some tough times and becoming rather neglected, the citadel underwent a grand restoration project in the 19th century, overseen by famous French architect Viollet-le-Duc.
It is now considered to be the largest and best conserved medieval fortress in Europe, grand, imposing and home to a labyrinth of cobbled streets, churches, a castle, towers and ancient buildings.
But this Medieval city is no fusty old museum town, it's a thriving, living monument. In fact, there are 50 residents, numerous shops and restaurants, and year-round events including the famous Bastille Day fireworks display.
When you see this magnificent castle looming above you from the lower town, it really does take your breath away, it's one of the wonders of France.

Author: Janine Marsh is author of My Good Life in France: In Pursuit of the Rural Dream, and editor of www.thegoodlifefrance.com
Sharing is caring!
[social_warfare]


---
[the-post-grid id="4798″ title=""]