Last update: Mar 21, 2023 @ 6:57 pm

6 Best South of France Cities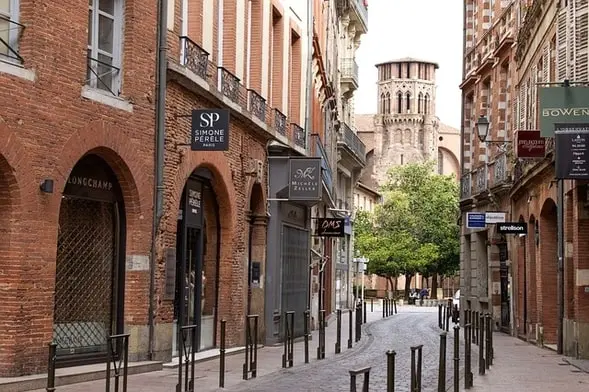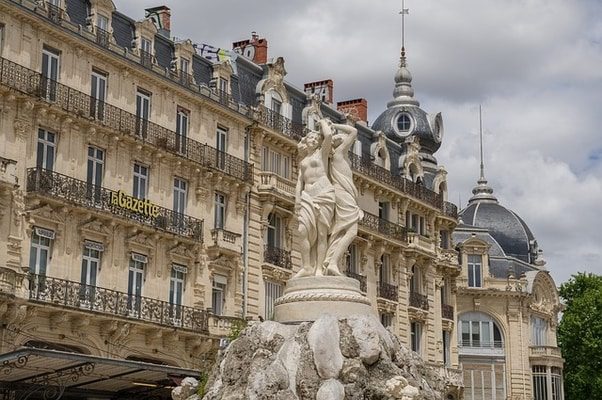 Paris and its attractions like the Eiffel Tower may be what many first think of when France comes to mind, but this amazing country is so much more than that historic metropolis. In particular, the South of France is a spectacular part of this country that some overlook. It's home to spectacular food, amazing weather and outdoor activities ranging from hiking in the mountains to relaxing on the beach. Some of the best places to consider on your trip are these six South of France cities (above 50k inhabitants): Toulouse, Nice, Montpellier, Nîmes, Avignon, and Antibes. This selection will give you a great feel for what this region is about. They're varied enough to allow you to find one that especially touches you.
Toulouse
475 438 inhabitants
Toulouse 4th biggest city of France is an often-overlooked city in this region of France. Partly because it's not near the beaches, sitting roughly equidistant from the Mediterranean Sea and the Atlantic Ocean, or near the Alps. However, it still has plenty to offer visitors, and it's just an hour north of the Pyrenees. Within the city are historic attractions aplenty ; one is the Basilica of Saint-Sernin. It dates to 1180 and is the largest Romanesque building remaining in Europe. Meanwhile, its Capitole de Toulouse is the pulse of the community. Several historic moments happened here, and it's home to government offices and large gatherings today. The Theatre du Capitole is located in this part of Toulouse too.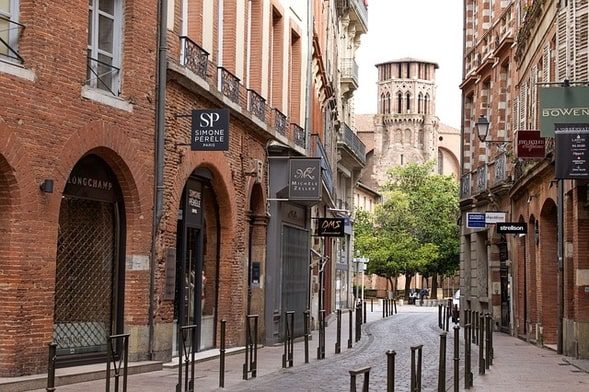 Nice
342 637 inhabitants
Nice is one of the sunniest cities in an already sunny region of France, and it's also conveniently situated within a 30-minute drive from both Monaco and Italy. Perhaps its most famous attraction is the Promenade des Anglais, which offers spectacular views of the Mediterranean Sea. Several attractions are also located in that area, including the picturesque Parc Phoenix. Also make sure to check out Old Town, which provides some outstanding walking opportunities. Arts enthusiasts will be especially enamoured by the Musée Marc Chagall while many visitors rave about Nice's food, both found at food markets and eaten at its spectacular restaurants.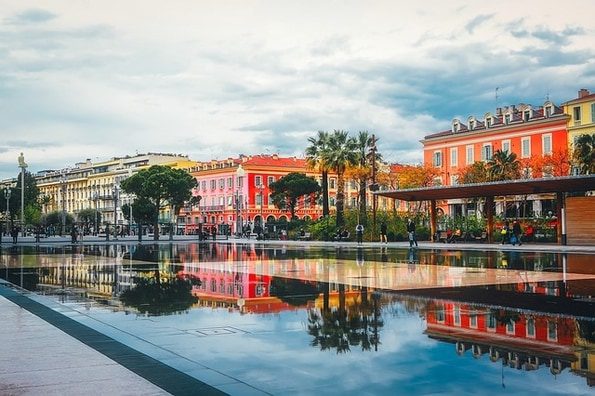 Montpellier
281,613 inhabitants
Montpellier, also one of the biggest South of France cities, is full of energy as it's home to several universities, including one of the world's oldest: Montpellier's Faculty of Medicine. It's also situated just 8 miles from the Mediterranean Sea. Shoppers enjoy walking along its medieval streets as they look for things to bring home that will remind them of their visit. One of this city's newest attractions is MOCO, an institution that's dedicated to contemporary art and that opened in June 2019. Other places to consider visiting include the Place du Peyrou, Montpellier's highest point at 187 feet, and the Place de la Comédie, its cultural epicentre and where the beautiful Three Graces fountain is situated.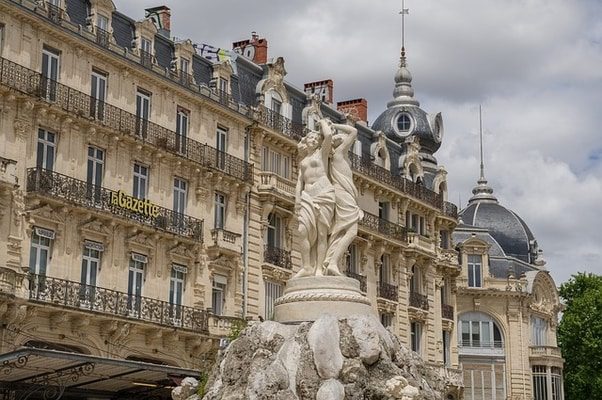 Nîmes
151 001 inhabitants
Amidst all of these South of France cities is historic Nîmes. It's famous for being an especially Roman city within France. One of the best visual examples of this is the Maison Carrée, which is one of the Roman Empire's best-preserved temples. It dates more than 2,000 years. Also of special interest to many is the Arena of Nîmes, which is one of the world's best-preserved Roman amphitheatres. During its heyday, it could fit 25,000 people. The Magne tower, which also dates to Roman times, is impressive as well. All of this was the result of Nîmes being a Roman Empire regional capital with a popular of roughly 55,000 at the time.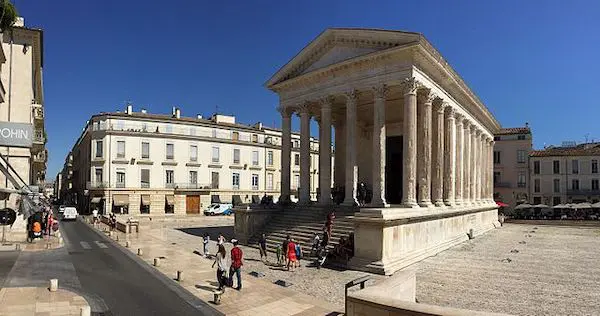 Avignon
92 378 inhabitants
Avignon is home to an ancient town centre that not only attracts several visitors throughout the year but is also home to about 10% of the city's residents. This area is compact enough that walking it can be done by most. Note that if you time your visit here so that it takes place in July, you can enjoy the Festival d'Avignon. During this time, actors, musicians and other types of artists perform throughout Avignon while a thousand official productions take place too. Regardless of when you visit Avignon, do check out the Rocher des Doms' gardens, the large indoor market at Avignon Les Halles and the Palace of the Popes.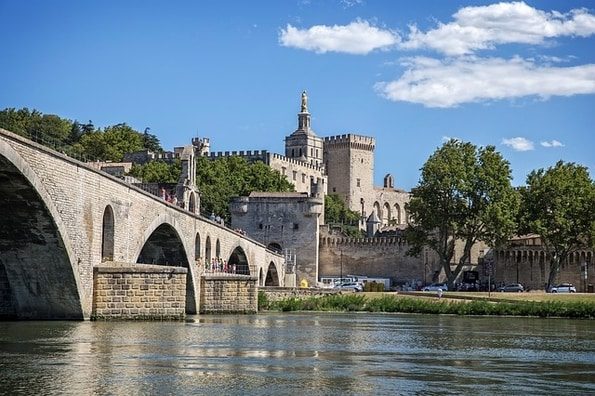 Antibes
73 798 inhabitants
Antibes juts out into the Mediterranean Sea midway between Cannes and Nice. This is the place to go if you're looking for a more relaxed experience while in one of the most populous cities of the French Riviera. As many here are out and about as the sun sets, eating at outdoor restaurants and walking along the water. Artists throughout the years have found their inspiration in Antibes. One of those was Pablo Picasso, who stayed here for six months in 1946 at a castle, which is now the Musée Picasso. Meanwhile, music enthusiasts will want to time their visit to Antibes for July as that's when the Jazz à Juan festival is held in Antibes.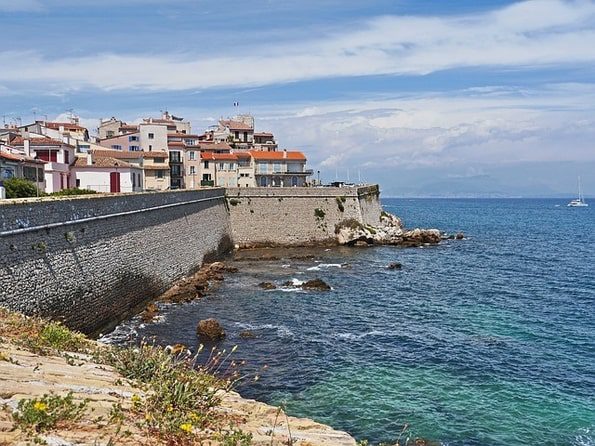 ---