Last update: Mar 21, 2023 @ 6:59 pm
Why Carrières Lumières in Southern France Should be on your Bucket List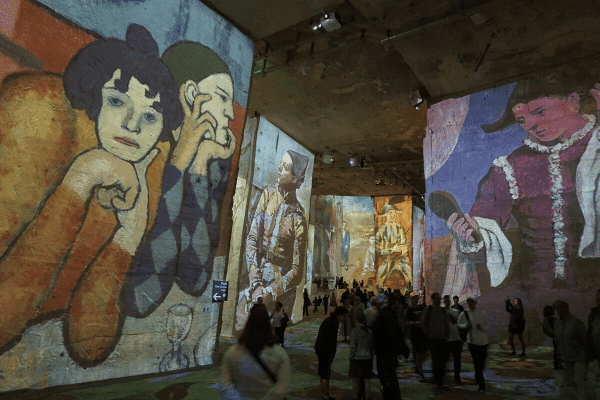 Why settle for just looking at art when you could physically step inside some of the world's greatest paintings? Carrières Lumières in Southern France allows visitors to dive into renowned artists' works for an immersive encounter unlike anything else in the world. The creative museum features over 75,000 square feet of visual and audio presentation carefully curated to provide a 360° experience for the senses.
The Carrières Lumières, whose name means "quarry of light," is located in a former white stone quarry that operated during the nineteenth century. The quarry was abandoned after World War I, but the space has been home to artistic expression since 1959 when French filmmaker Jean Cocteau filmed The Testament of Orpheus in the former mine. Others soon recognized the space's creative potential, and in 1977 it was transformed into a backdrop for sound and light shows. Today, this cultural haven employs innovative audiovisual technology that brings new magic to well-known artistic masterpieces. For example, in 2018 the center hosted an exhibit showcasing works by Picasso and other Spanish masters. This video provides a glimpse into the magnificent and breathtaking spectacle.
After 2018's Picasso and Spanish masters feature, the Carrières Lumières' 2019 exhibition celebrates Van Gogh and his "Starry Night" along with other works. The production explores the artists' intense life and highlights his tormented genius. Van Gogh's works are projected on different surfaces including the former quarry walls, highlighting details that might otherwise go unnoticed. Even the floor is covered with a carpet of color that gives the impression of being inside a prism of light. The images constantly shift and change to make for a dynamic and engaging viewing experience that appeals to all ages. In addition to the main exhibit, various special events feature surprising and delightful themes ranging from pop art and Star Wars to impressionist and Japanese art.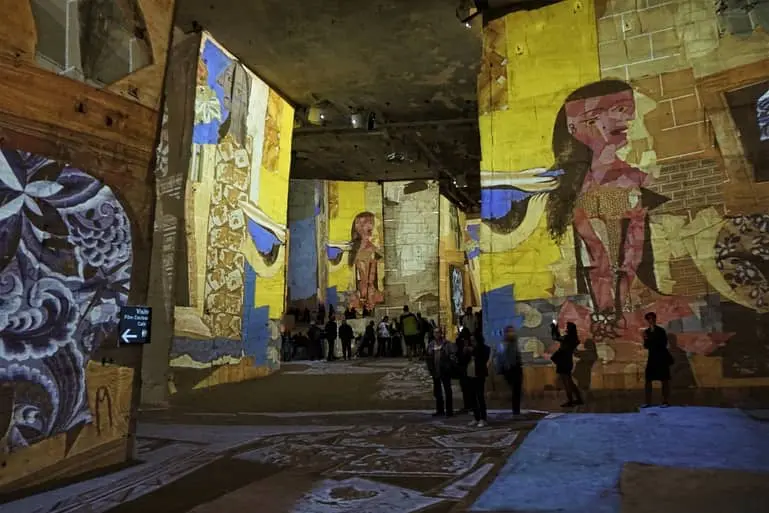 The current Van Gogh production lasts for just over 30 minutes, but viewers can stay as long as they like to continue appreciating the breathtaking design. Mystical music provides the perfect ambiance for wonder and reflection and creates a dreamy aura. The Carrières de Lumières is open every day and is accessible for all guests. The museum boasts a five-star Tripadvisor rating and has been internationally praised by journalists and influencers. In fact, the Carrières de Lumières has been so successful that a similar, though smaller, concept was recently launched in Paris with the name the Atelier des Lumières ("Light Workshop").
While the Carrières Lumières is one of the most-visited tourist attractions in Les Baux de Provence, the Alpilles region has plenty more to offer. Chateaux, cathedrals, beaches, villages, markets…the south of France reveals the country's diverse history and authentic spirit. From gorgeous natural landscapes to man-made wonders, the area's abundant sights and sounds are sure to leave a lasting impression. Join one of our nine-day south of France tours to experience the region's mystique with a memorable visit to the one-of-a-kind Carrières de Lumières.
Sharing is caring!
---