Last update: Dec 9, 2019 @ 1:43 am
Frédéric Bazille, The Youth of Impressionism
A Glimpse Into the Short Life of Frédéric Bazille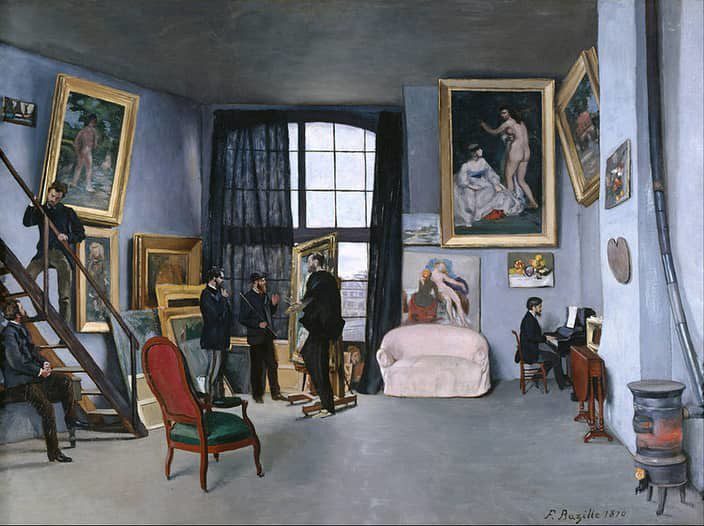 Frédéric Bazille's Studio, 1870. From left to right: Pierre-Auguste Renoir sitting, Emile Zola (standing on the stairs), Eduard Manet and Claude Monet (with the hat) – next to Bazille, talking about one of his paintings.
As the son of a upper-middle-class Protestant family, Frédéric Bazille (1841-1870), from Montpellier in South of France, was slated to go into medicine. Instead, he became a renowned French Impressionist painter after being inspired by the early Impressionist works of Eugène Delacroix. Bazille traveled to Paris in 1862, where he met Auguste Renoir, Claude Monet, and avant-garde painters like Henri Matisse and writer Emile Zola. Frédéric Bazille was – together with Renoir, Monet, and Sisley – one of the leading figures in modern painting. Unfortunately, Bazille's career was cut short when he served in the Franco-Prussian War, in which he was killed at the age of 28 years old.
Bazille's Works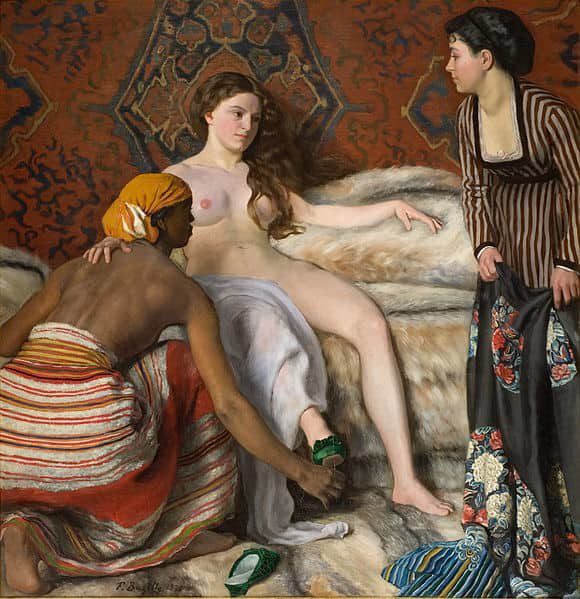 La Toilette, 1870
Bazille excelled at depicting the variety of Parisian life in the mid-19th century. His final painting, La Toilette (1870), brings to mind Édouard Manet's 1963 painting, Olympia, which is reminiscent of the Italian Renaissance master Titian's Venus of Urbino (1538). Bazille, however, adds a highly modernized style to his paintings, including his takes on classical nudes, as can be seen in Fisherman with a Net (1868).

In all of Bazille's works, there is a vibrancy that comes through in his color palette and subject matter. His scenes range from realistic landscapes to still-life, and he painted a few portraits, such as those of Renoir and the poet Paul Verlaine. Had he lived longer, who knows what masterpieces Bazille would've produced?
New Technology Reveals Some Secrets!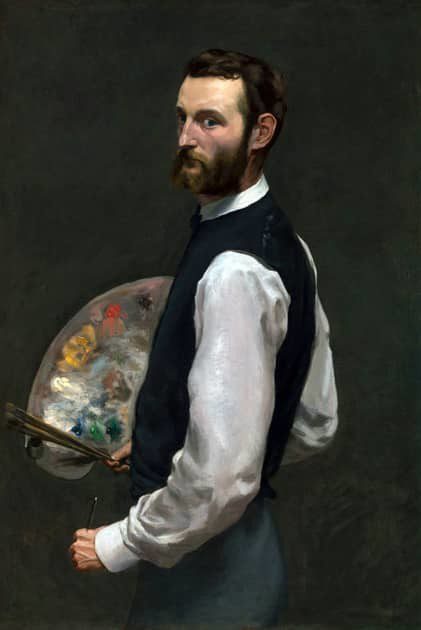 Frédéric Bazille, Self-Portrait, 1865–1866
Technology has come a long way from the time of Bazille's death in 1870, and it now helps 21st-century art lovers understand and appreciate the painstaking methodologies of artists like Bazille. Before being put on display in The National Gallery of Art in D.C, about half of Bazille's works were x-rayed. These x-rays revealed a dozen other compositions hidden beneath the topmost layers of paint. Quite miraculously, Bazille's first Salon submission, Young Woman at the Piano, was found among these compositions. It had been presumed lost for many years. Thanks to the collective effort made by the National Gallery of Art, the Center for Research and Restoration of the Museums of France, and several other museums, we now see the extent of Bazille's talent.
The Paintings Today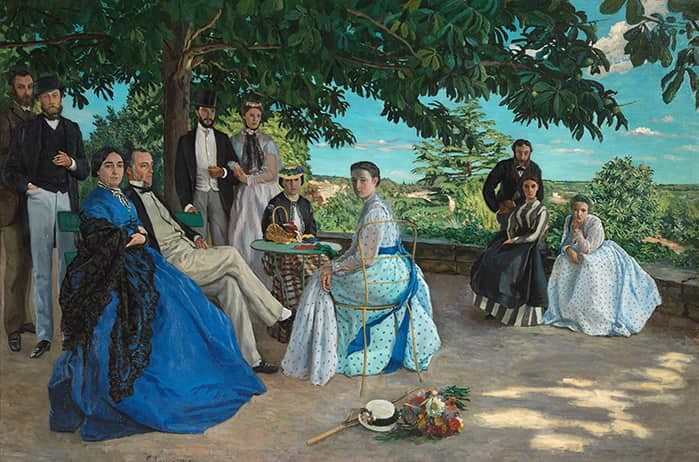 The Family Reunion, 1867
Bazille never rose to the height of popularity achieved by his Impressionist friends. Since he led a tragically short life, Bazille's body of work is limited, and he has flown under the radar of art appreciators for almost 150 years. You can find most of his art work at the Musée Fabre, Montpellier -his home town- as well as the Musée d'Orsay, Paris. Temporary exhibitions are also organized throughout the world thanks to loans from these two institutions.
---
The South of France is Calling You!

The South of France is a wonderful travel destination. From the beautiful white beaches to world-renowned museums, this area has something for every kind of traveler. The restaurants and local culture are second to none. If you want to experience the tiny medieval towns and seaside resorts like a local, consider embarking on a small group tour. Trip USA France offers tours given by local tour guides, providing visitors with an inside look at this beloved travel destination. We'll help transform your trip into the visit of a lifetime.
---
Sharing is caring!

[the-post-grid id="4798″ title="blog post grid"]