Last update: Nov 30, 2023 @ 8:22 pm
Dordogne, France: 6 Reasons Why You Must Visit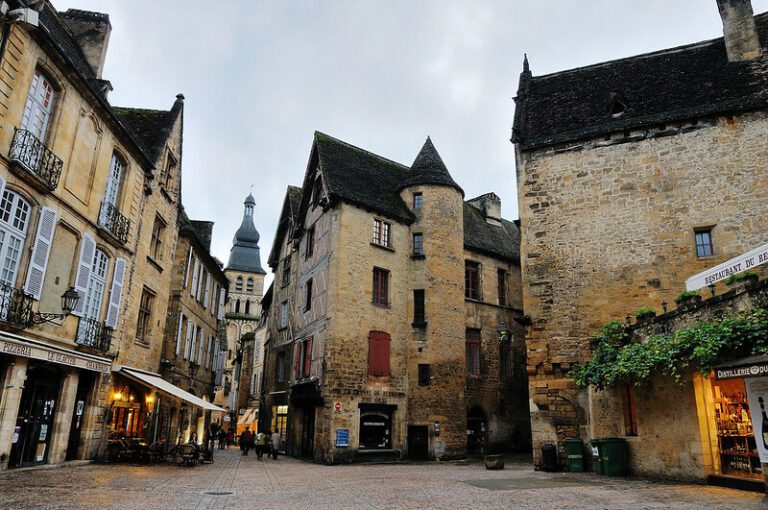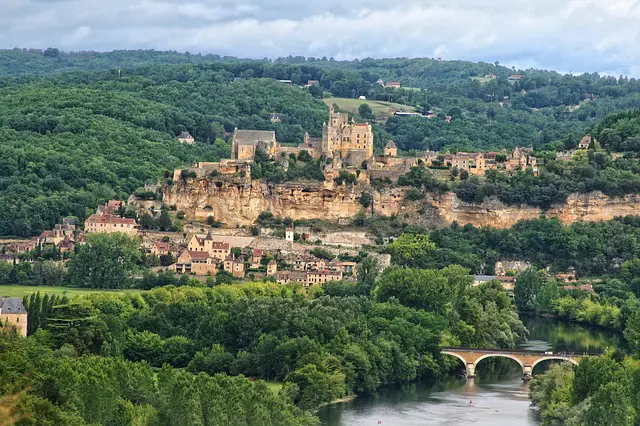 The Dordogne, also known as Périgord, is a region in southwest France. It is not as well known or frequented by international visitors as other parts of France, but it should be as this beautiful area has so much to offer.
The region is full of medieval villages, castles, impressive churches, stunning landscapes, and more caves than any other region in France. Indeed, Dordogne is home to many prehistoric paintings, considered the finest examples in Europe.
It also has excellent food and wine, friendly locals, beautiful weather, and plenty of activities.
Who would have thought to find one of the most beautiful regions in France a mere two hours drive from the Bordeaux airport? If you're looking for a truly French experience, Périgord it is!
It's one of the French most popular vacation destinations, and I can see why. If you need more convincing, here are six reasons why visiting Périgord should be on your bucket list: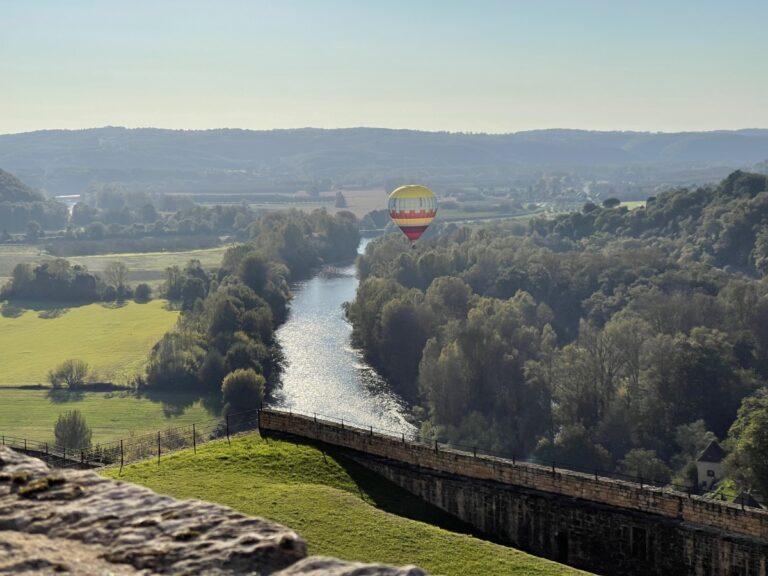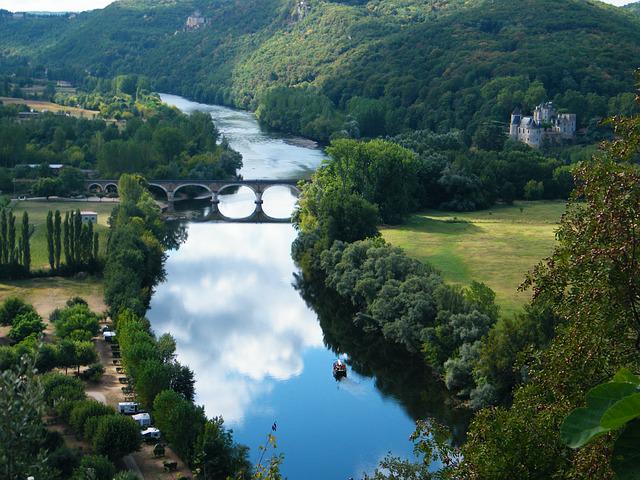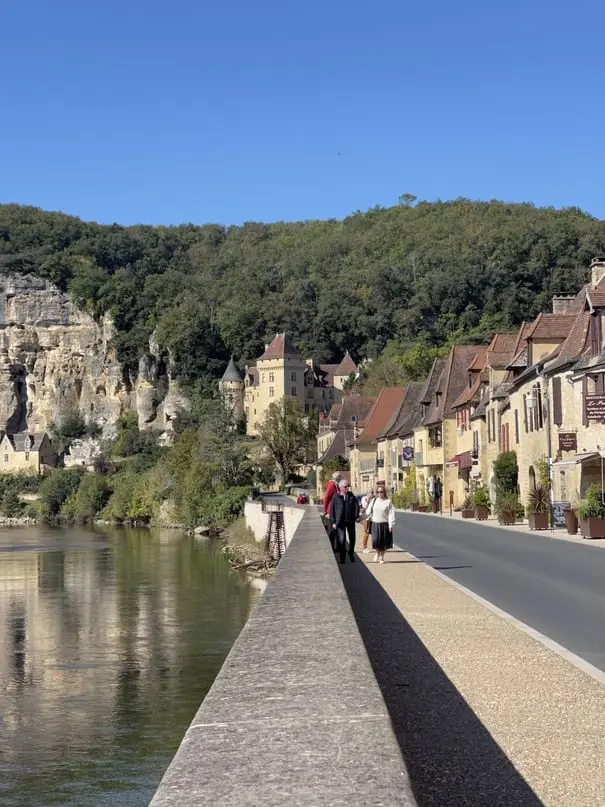 1. The Dordogne Valley & Its Magical Landscape
Dordogne is built around the river of the same name. The valley that surrounds the river is a truly magical area known for its stunning landscapes composed of lush forests, rolling hills and imposing cliffs.
The Dordogne Valley is the perfect spot to explore French culture and history. There are plenty of villages to visit throughout the region, each with its unique charm. Some of the most popular villages include Sarlat-la-Cadenat, Beynac-et-Cazenac, Rocamadour (just outside Dordogne region) and La Roque-Gageac. These picturesque villages are packed with historical sites, churches, and castles.
The best way to take in the countryside's beauty is from a hot air ballon that floats gently through the sky. From above, at sunset or sunrise, you will see the river Dordogne snake through the magical valley along with some mighty fortresses picking through the forest. A simply breathtaking experience that should be on anyone's bucket list. (As long as you are healthy and can stand for 1 hour this activity is available for anyone above 6 years old.)


2. The Amazing Land Of 1001 Castles
Périgord (or Dordogne if you prefer) is known for its numerous castles, hence the nickname of the "Land of 1001 Castles." There are hundreds of castles to choose from for a visit back in time, each with its distinct history and appeal.
Many of Périgord's castles are open to the public. On-site restaurants, cafes, and gift shops are available in some cases. You might even be able to catch a castle festival or a medieval reenactment while you're there if you're lucky.
Here are a few of Périgord's most famous castles:
• Chateau de Beynac: An excursion to the Dordogne Valley would not have been complete without stopping at the Château de Beynac, which offers breathtaking views of the river and neighboring castles.
It contains artifacts from various eras, including rare 15th-century frescoes. In fact, the French were housed at the Chateau de Beynac during the Hundred Year War, while the British were just across the river at Chateau Castelnaud, making the history of this place crucial.
The historical importance of this site and the spectacular views of the Dordogne valley and castles from the terrace is what makes a visit to Le Chateau de Beynac unforgettable.
The end of the day is the best time to visit Beynac's castle to catch the best light.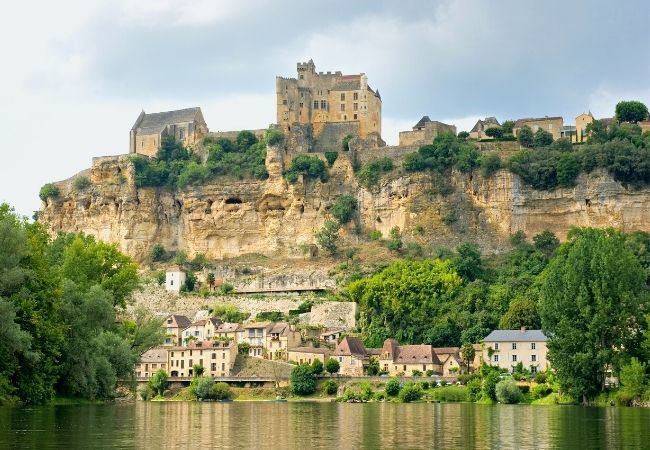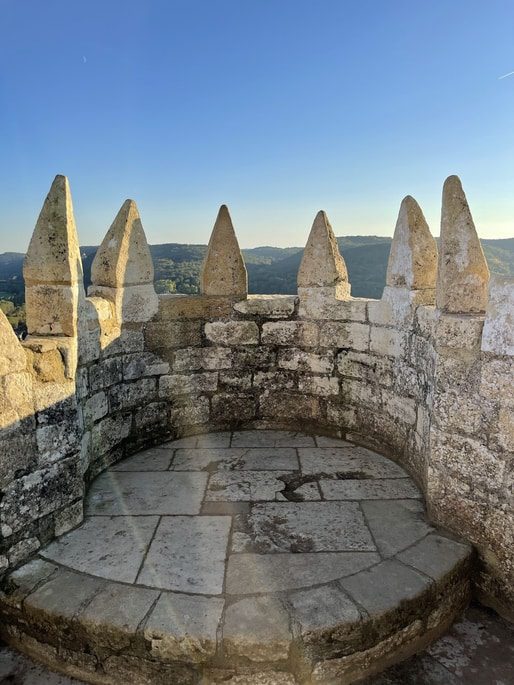 • Chateau de Castelnaud: Cross the river and meet Château de Castelnaud, Beynac's mighty rival! The artillery tower and astounding collection of weapons at the castle fascinates visitors and put even the most powerful fortresses to shame.
The position at the confluence of Dordogne and Céou, facing the rival French castle of Beynac, is why the powerful English where always after Castelnaud's castle in the Middle Ages. This fort is truly magnificent and will transports you back in time.
• Château des Milandes: is a 15th century masterpiece not to be missed! Known for being the former home of songbird Josephine Baker (1906-1975). Josephine bought the property in 1947 and renovated and managed to improve it extensively. This is also how Josephine Baker ended up in debt.
Fourteen of the castle's rooms, a cafe-restaurant, and a predatory bird show (in French) are open to the public.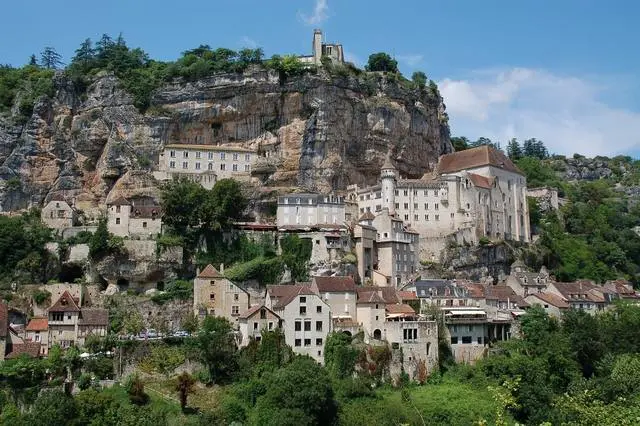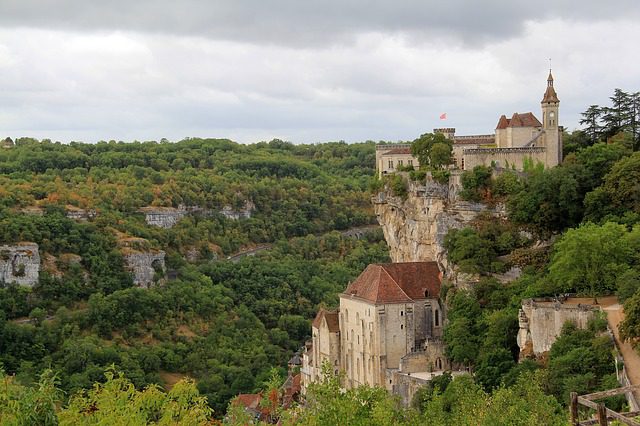 3. The Scenic Clifftop Medieval Villages
In addition to the castles, Périgord is also home to several charming medieval villages. These villages are perched atop cliffs overlooking the river below and offer stunning countryside views.
Some of the most popular villages include:
• La Roque-Gageac: Labeled as "one of the most beautiful villages of France" the picturesque village is stuck on an impressive limestone cliff boarding the Dordogne river.
The village contains multiple landmarks and is a great place to take a walk and explore. Stroll by the river bank or climb up the narrow streets to catch some amazing views. Boat rides and kayaking are also available.
• Beynac-et-Cazenac: Bigger than La Roque-Gageac, the village is home to the Beynac's castle. The cliff hanging village is particularly photogenic with it's narrow streets and beautiful flower-decked houses. In fact you might have already seen the village in the movie Chocolat.
The pretty village holds many cafes and restaurants and is also built along the Dordogne river. Park at the bottom parking lot and stroll up through the village to the castle. Even if you don't visit it you will be able to catch amazing views. Don't forget your camera!
• Rocamadour: Rocamadour village is located on the outskirts of Périgord near the Dordogne river is known for its dramatic location on a cliff and its important religious monuments.
Inside the Notre-Dame chapel of Rocamadour is the relic of a 12th century Black Madonna statue which is believed to have healing powers making Rocamadour the focal point of pilgrimage for nearly a millennium.
4. Delicious Local Cuisine
While exploring Dordogne, allow yourself to be seduced by this food-loving land where people have an innate kindness and know by heart the meaning of the word "hospitality." As famous culinary critic Curnonsky (1872-1956) once said: "Périgord is one of the regions of our country where we eat the best, and for centuries".
Find below some of the most traditional foods of Périgord:
• Périgord Black Truffle: This black truffle is found in the Périgord region and is known for its rich, earthy flavor. It's often used in foie gras, pasta, and rice dishes. Visiting a local truffle farm would also be an excellent addition to your journey in Dordgone.
• Foie Gras: Foie gras is a dish made from duck or goose liver cooked in various ways. It's a popular dish in Dordogne, and you can find it served at most restaurants.
• Quercy lamb: another of the Dordogne Valley's specialty. These free-range lambs are left to roam on the Causse's limestone plateaux as they feed on thyme and other herbs.
• Walnut Pie: One of the most popular desserts in region is walnut pie. This dessert is made with a pastry crust and a walnut filling, and it's usually served with a dollop of cream, and sometimes they use ice cream.
• Rocamadour Cheese: This soft and creamy cheese belongs to the family of goat cheese. Named after the sacred town of Rocamadour it is one of the oldest cheeses produced here in the Dordogne valley.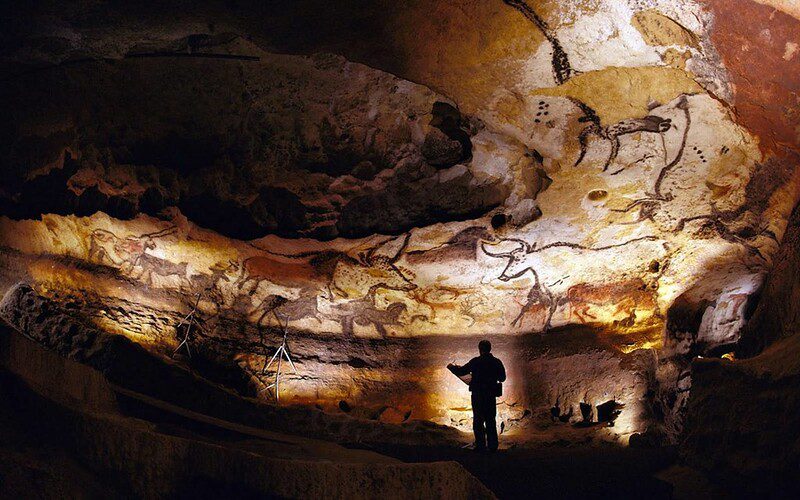 5. The Jewels of Prehistoric Times
In addition to its beautiful villages and delicious food, the Périgord region is also home to some of the most crucial prehistoric sites in Europe. In the Vézère valley alone, between Montignac and Les Eyzies, there are more than 200 Paleolithic sites, including the famous decorated Lascaux Cave listed as World Heritage by UNESCO.
The world famous Lascaux Cave (or rather network of caves) was discovered in 1940 by 4 teenagers. It holds nearly 600 prehistoric (around 17000 BC) paintings, mostly animals, all around its walls. The paintings are some of the most famous in the world, unfortunately the original cave had to be closed to the general public 20 years later because of the rapid deterioration. Multiple replicas have been created since, but the complete, un-preceded last version of the replica, Lascaux IV, which opened in 2016 is a truly a jewel of art that will blow your mind.
"Inside the cave facsimile, the atmosphere is damp and dark, re-creating the humidity within the caves. Sounds are muffled; the temperature drops to about 16 degrees Celsius. […] The cave replica was developed through the most advanced 3D laser scanning and casting technologies to replicate the original cave form to a 1 millimeter tolerance. Following the construction, the caves underwent a careful analog process: 25 artists spent 2 years hand-painting 900 meters of resin rock reproductions. To ensure the highest level of accuracy, artists used the same pigments that the prehistoric painters used 20,000 years ago to recreate the 1900 paintings and engravings that adorn the walls of Lascaux IV." Says the SRA architects website.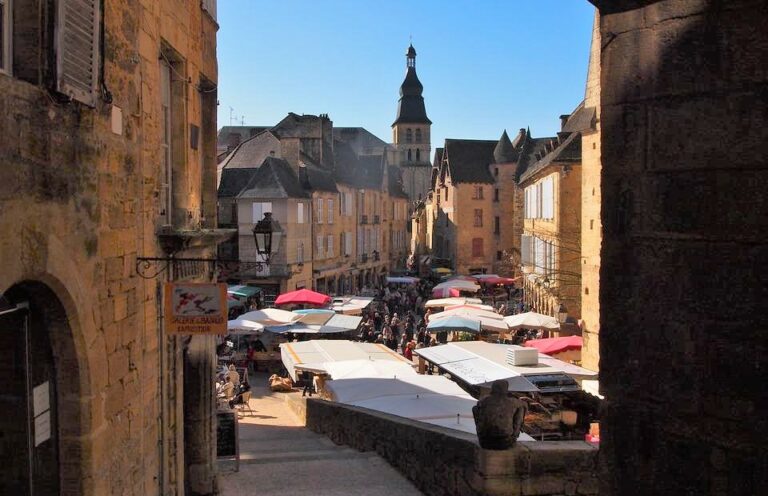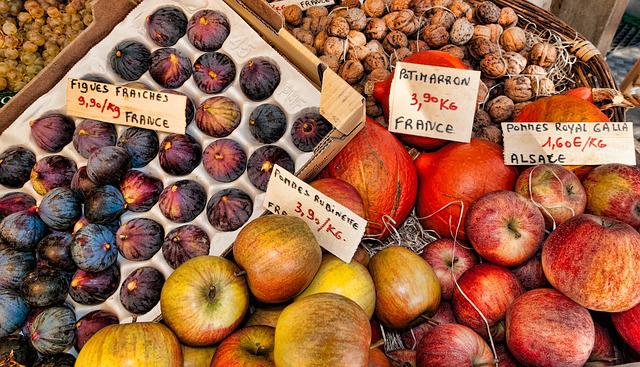 6. The Vibrant French Markets
You can't go to France without visiting at least one market. There are plenty of them throughout the region. Even better, many of them take place several times a week, so you have multiple chances to visit one during your stay.
One of many favorite French markets is in Sarlat-la-Cadenat. It is a beautiful medieval town located in the heart of the Dordogne Valley. It's well known for its winding streets, colorful buildings, and lively markets. The Saturday market is the largest in the area and takes place every week from 8 am to 5 pm (until 1 pm for food items). This market offers organic farm-fresh fruits and vegetables, local honey, jams, homemade pastries, cheeses, clothing and other various objects. The Wednesday market is smaller but charming, with a great selection of food and artisanal items. You can spend hours wandering around this market as it covers nearly all of Sarlat-la-Cadenat's old town.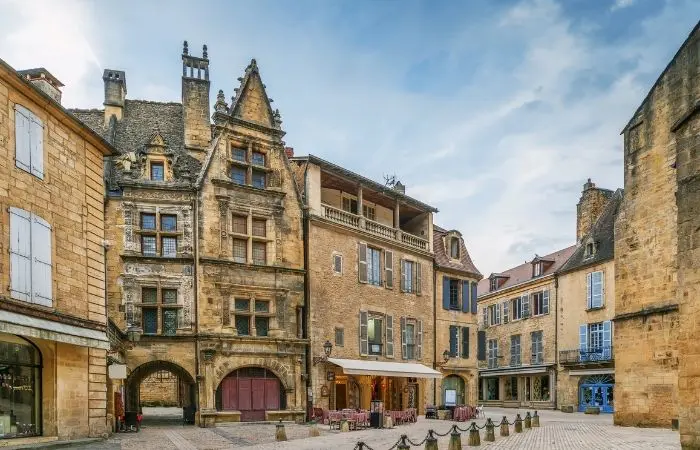 Listed below are some of our favorite Dordogne markets, the location, time, and what they are famous for:
• Saturday market in Sarlat-la-Cadenat: 8 am to 1 pm every week
• Wednesday market in Sarlat-la-Cadenat: smaller but charming, with a great selection of food and artisanal items
• Thursday market in Rocamadour: this is a great market if you're looking for souvenirs or local handicrafts
• Thursday market in Montpazier: traditional market with regional products as well as artisans and souvenirs
• Friday market in Souillac: large and lively, with a great selection of fresh produce
• Sunday market in Saint-Cyprien: local products, handcrafted items.
Themed markets are also popular in Périgord, France. One of the most popular is the truffle market in Lalinde every Saturday from November to March. This market offers an abundance of fresh truffles and local products like wines, cheeses, and cured meats. If you're looking for a unique French market experience, check out one of these themed markets during your stay.
In conclusion, Dordogne France, is a beautiful region with a rich history, beautiful scenery and delicious food. If you're scouting for a fantastic vacation destination full of off-the-beaten-path, authentic sites and less tourists, then Périgord should be at the top of your list!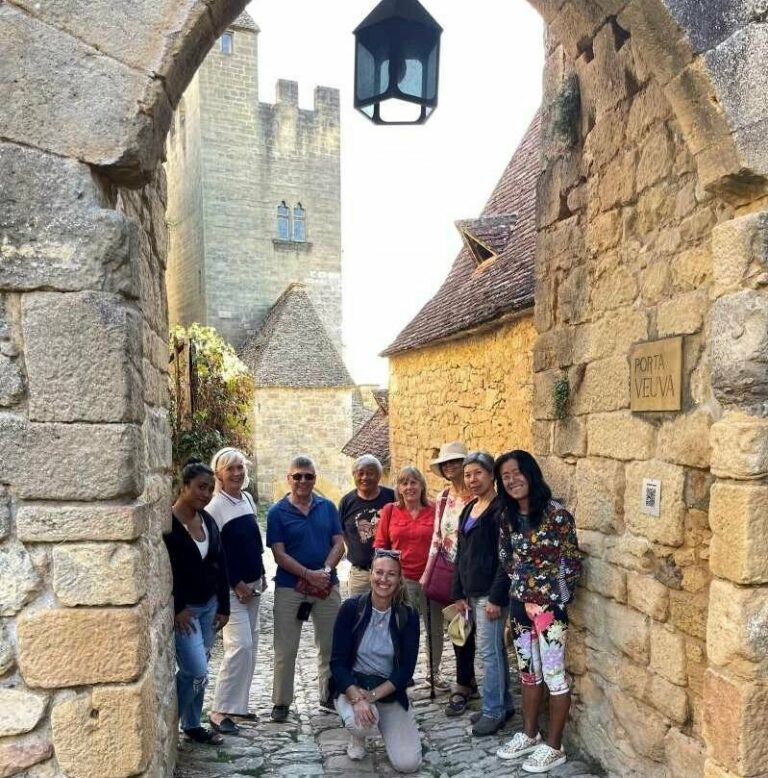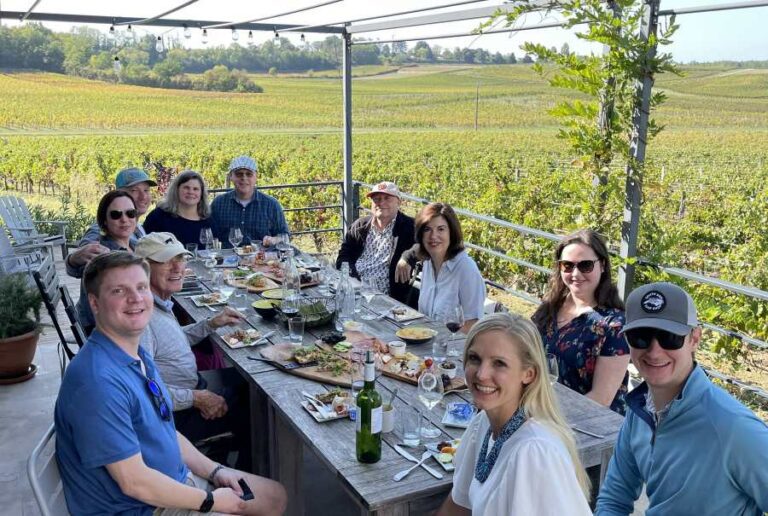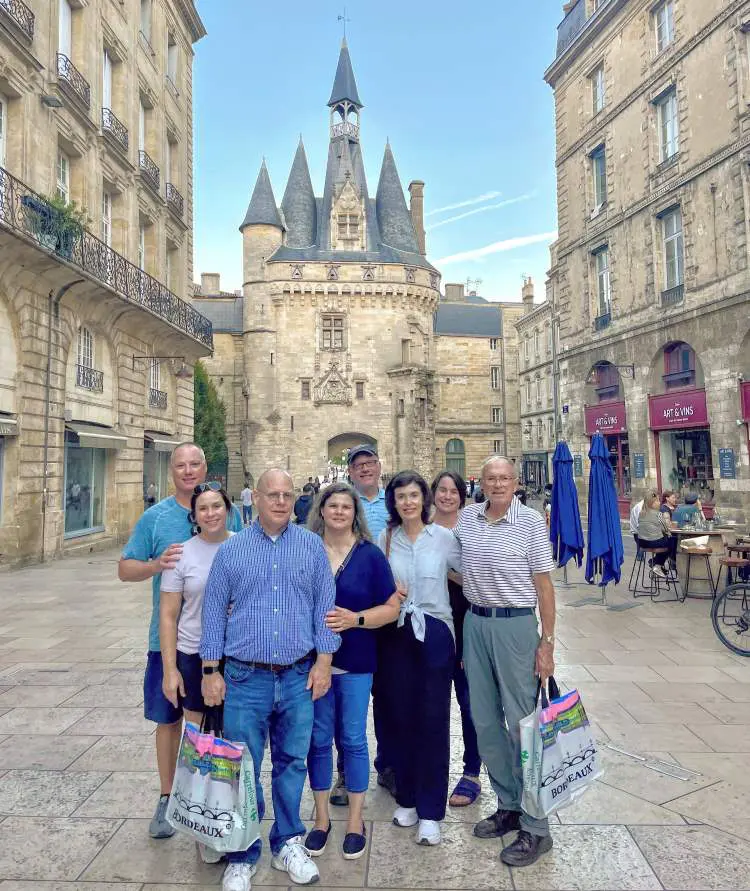 ---