8 Day Bordeaux/Dordogne Tour
Day 1- Welcome to France!
Bienvenue en France! We are delighted to meet you and to begin to share and enjoy French culture together. The tour will start with pick up from the airport in Bordeaux at 11 am or from nearby Hôtel Mercure Bordeaux Aéroport at 10:30 am. (Please note, we do not pick up people from the train station or from downtown Bordeaux, you can reach the airport with a taxi or a bus from there.)
We then will cross both the Garonne and the Dordogne river to reach a lovely boutique winery where we will have our first meal together overlooking the endless vineyards of Bordeaux. A perfect time to formally meet everyone and start to get to know each other. After a delicious lunch carefully prepared just for us by the owner, we will get to visit her estate, listen to her life story and start our journey of learning about winemaking.  Next, we will head to Logis Château Fleur de Roques. This is the first hotel on our trip and it is a beautiful, renovated 16th century castle surrounded by vineyards, where we will relax before having dinner together at the wonderful restaurant inside the hotel. The hotel boasts great facilities with an outdoor pool, free WiFi throughout the property, a garden with a terrace, a pool table room, and a restaurant set in the former kitchen of the castle. Begin to feel like you are experiencing the France of your dreams!
Pick up Bordeaux Airport, Lunch Boutique Winery, Check-in Chateau Hotel Near St Emilion, Free Time - Welcome Dinner Table Margot - Hotel Château Fleur de Roques



Day 2- St Emilion Medieval Village, Winery
For our 2nd day of touring, we are starting off by taking a short drive to the picturesque village of Saint-Emilion. We will enjoy a walking tour of the old medieval town packed with fascinating history and classic French architecture. After the tour enjoy some free time to wander through the cobblestone village, look at the beautiful stone houses or simply relax at one of the many cafes on the main square while people watching.
After lunch we will head to the heart of the famed wine appellation of St Emilion in the Bordeaux region. Here is where it all started as wines have been produced here dating back to Roman times, making it the oldest active wine appellation of Bordeaux. We will visit the grandiose winery of Chateau de Pressac. Along with its rich history and prestige, this winery is classified as a "Grand Cru Classé" vineyard, which means it is one of the highest quality. Located on one of the highest point in the area Chateau de Pressac will astound you with magnificent views of the countryside. Do you believe that your French dreams are coming true yet?
After a day full of beautiful scenery and interesting history we will head back to your hotel Chateau Fleur de Roques for your free evening. On the way back we will stop at a small corner store where you will be able to buy a sandwich or some snacks if you don't wish to eat dinner at the hotel restaurant Table Margot. You may also book a taxi to take you back to Saint Emilion for a night out!
St Emilion Walking Tour & Free Time, Chateau de Pressac Wine Tour - Free Evening - Hotel Château Fleur de Roques


Day 3- French Heaven: Countryside, Food & Wine
In the morning we will discover a historical barrage flour mill built in 1850 on the Isle River located just 20 minutes from our hotel. After a bread making demonstration, the guide will show us around the antique machinery and the process of flour making. We will each leave this picturesque property with our own warm fresh bread!
Of course you came to Bordeaux for the wine, so we will then head to a local winery for lunch. After a relaxing meal and a visit of the estate followed by a wine tasting we will return to the hotel for some free time. This would be the perfect opportunity to enjoy a book by the pool or take a walk in the surrounding country side before we leave again for our group dinner activity: a cooking class!
During this exclusive experience with a local chef you will get to learn the techniques and principles of preparing food in the French style! Like a professional, behind your preparation area and your own cooktop, share a most convivial moment and let yourself be guided by the advice of our Chef - all while enjoying some wine of course! We will then enjoy our creations together for dinner. Be ready for an evening of fun with your new friends on the tour!
Historical Flour Mill, Winery Lunch, Cooking Class - Dinner at the Cooking Class - Hotel Château Fleur de Roques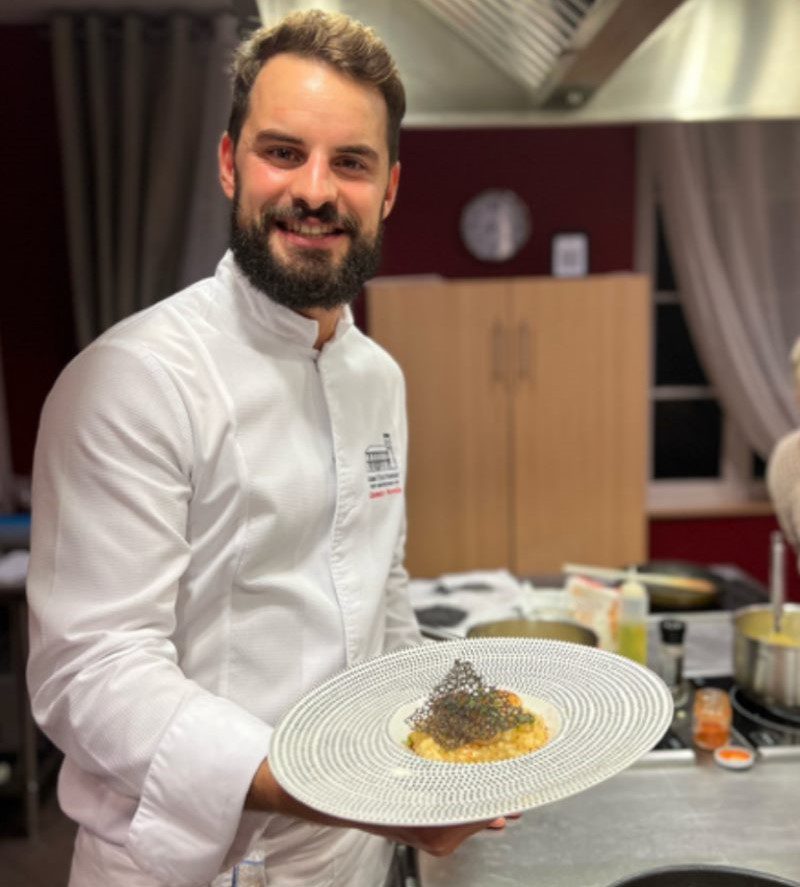 Day 4- Dordogne, Josephine Baker, Truffle Farm
The French dream continues on this day as we depart for the breathtaking region of Dordogne where we will stay for the next 4 days. Nicknamed "the valley of 1001 castles", this enchanted place carved by the Dordogne river is one of the most picturesque area of France.
You will be able to visit 2 of our favorite castles during our time here. The first one you will visit this morning: Le Chateau des Milandes. Built around 1489 by a Caumont Lord in the Renaissance style to impress his wife, this fairytale castle continues to impress with its timeless looks and most gorgeous gardens. It housed the Caumont family until the French Revolution after which it eventually became the home of the famous French entertainer and activist Josephine Baker who lived an interesting life and even was a member of La Resistance in WW2. She owned the castle at one point and used the castle as a home for children in need and to promote harmony by accepting children of all religions and ethnicities. The castle is certainly worth a visit for its rich history and beauty.
Next, since Dordogne is known for its gastronomic culture and being the foie gras, duck, and truffle capital of France, it only makes sense that we would take you to a truffle farm! We will meet with one of the employees of this local truffle farm and walk amongst the trees while they share their passion and knowledge of cultivating and locating these elusive and cherished delicacies with beloved dog Noxo. We will finish this special encounter with a tasting of their homemade butter truffle.
Then we will settle into our 4 star hotel at Le Perigord. Like the last hotel, this one also has a pool for relaxation (heated), 5 acres of grounds to explore for some fresh air, and other great facilities. For your free evening you can decide to dine at the restaurant on site at the hotel or go with your guide to a local bakery to buy a sandwich/snakes.
Check-out, Chateau des Milandes, Truffle Farm, Check-in - Free Evening, Hotel Le Perigord



Day 5- On the Compostela Road & Down in the Gouffre de Padirac
Have you booked your tour yet? Hurry up and secure your spot so you don't miss out on these next two sites! Today we are diving deep into a real, magnificent cave. Edouard Martel, a famous French cave explorer, discovered one of the largest chasms in Europe in 1899, the Gouffre de Padirac. The locals used to call it the "Devil's Hole" because of its size and depth. At the bottom of the sink hole is a spectacular cave system, full of wonderful natural structures carved out and created by millenia of water erosion. You will see underground pools, giant stalagmites, interesting rock formations, and even take a short boat ride on the underground river!
After our exploration, we will retrace the steps of countless pilgrims with a walking tour of Rocamadour, a medieval hillside village fit for a postcard. You will be amazed at the harmony of man's creation and nature as the buildings and landscape complement each other perfectly. It is known for being a site of pilgrimage on the Compostela Road. Inside a cathedral is a 12th century black statue of "Madonna" the virgin Mary which according to legend has healing powers. The history and scenery of this beautiful little village makes it a must see in the area. You'll have some free time to explore after your guided tour before heading back to your hotel. We will stop at a bakery on our way back for the ones that don't wish to dine at the hotel restaurant.
Gouffre de Padirac, Rocamadour - Free Evening, Hotel Le Périgord



Day 6- Medieval Sarlat-la-Cadena, French Market, Bordeaux
Every true France-lover often dreams about spending a morning waking up and visiting a local market to see a collection of local goods, antiques, and delicacies, so that is exactly what we are doing today! We will drive to the nearby medieval village of Sarlat-la-Cadena. Just by the name you know it is going to be a beautiful site and it is a perfect backdrop for the French scenery of a market day. We will do a walking tour to explore and learn the history of the town and spend some free time discovering the market and picking up some food there to make your own lunch.
After checking market-day-in-Sarlat off the bucket list, we will head to La Roque Gageac labeled as "One of the most beautiful villages of France" and enjoy some free time. Eat your market snacks by the Dordogne river, explore the picture perfect village at the foot of a limestone cliff and see remnants of a troglodyte fortress above the town. We will go back to your hotel located 10 minutes away for some free time. Go for a swim or write in your journal all the discoveries that you made this morning!
At the end of the afternoon we will really take in the Dordogne region with one of its most breathtaking sites: Beynac Castle. Once occupied by the great King Richard Lionheart of England, it still dominates the town and marshlands from a limestone clifftop. If you really want an experience of a lifetime, you have the option to book a hot air balloon ride to observe the castle and picturesque valley from above for an extra charge. You will miss the visit of the castle itself and the history which is a great experience in its own but the choice is yours! Whether you choose the hot air balloon ride or the castle visit, we will all visit the town of Beynac where we will have a delicious French dinner together before heading back to the hotel for the night.
Sarlat-la-Cadena, French Market, Dordogne River & La Roque Gageac, Bordeaux - Dinner in Beynac, Hotel Le Périgord



Day 7- Lascaux IV, Bassins de Lumieres, Beautiful Bordeaux
Today begins the last chapter in your French adventure as we make our way back to Bordeaux. Our first visit along the way is quite a moving experience that is something you can't see anywhere else. In 1940, four teenagers stumbled onto a cave unlike any other containing hundreds of prehistoric paintings on the walls dating back at least 15,000 years near the village of Montignac. Understandably the original cave is permanently closed to preserve the historic creations but a museum was opened for tourism complete with an exact replica cave, Lascaux IV, that we will explore to see reproductions of all the art so that we can relive this striking discovery exactly how those adventurous teenagers did years ago and learn from the interactive exhibits. After a quick sandwich lunch at the museum we will now leave Dordogne to reach our final destination: the elegant city of Bordeaux!
Although the first thing that comes to mind in Bordeaux is the wine, the city is just as glamorous as the wine they produce. It was once called "the Sleeping Beauty" due to pollution that covered the walls of the buildings there. It has since been cleaned up and now free to shine in all its glory. It is second only to Paris for having the most nationally protected buildings so you are going to see lots of the magnificent architecture that France is known for. Read our blog here to see why we love Bordeaux so much! But before we head to your hotel, we will visit one of the city's most in-demand attractions: Les Bassins de Lumieres. Culturespaces is a company known for converting abandoned buildings into immersive light show art galleries. Bassin de Lumieres is their most interesting and largest one yet, as they converted an old German U-Boat base into an art center! The unique light show showcases art from the most famous artists in history and integrates music into the show for an unforgettable immersive experience. After checking into your hotel located in the Chartrons district, you will have a free evening to relax and get acquainted with the awakened beauty of the city.
Check-out, Lascaux IV, Bassins de Lumieres, Check-in - Free evening in Bordeaux, Hotel Vatel Bordeaux



Day 8- Bordeaux City, Medoc Wine  & Farewell Dinner River Cruise
Today you will be formally acquainted with the Bordeaux as we will embark on a walking tour of the city and visit many of its famous landmarks and historical sites. We will walk alongside the Garonne River, hear about the Romans who settled here, learn how it became a flourishing town with its port, admire the fine buildings and city squares like the Place de la Bourse and the Porte Cailhau, stop at the fountain at the Esplanade des Quinconces, shuffle through the bustling Rue Sainte-Catherine, and with so many things and places to see here the list goes on.
We will take a break for lunch and then go to the Musee du Vin et du Negoce for a final group wine tasting to wind down the day before returning to the hotel for a break. During this educational tasting you will be able to discover different Medoc wines. You will also have the chance to visit this small but very interesting museum which holds an intensive collection of artifacts related to the wine commerce in Bordeaux. (This museum is not La Cite du Vin)
Lastly we will have a farewell dinner on a boat cruise where you will reflect on the memories of the past week spent together and bid your guides goodbye. Although the guided portion of the tour is over, you have the option to add on one more day in Bordeaux (see below) with the many self guided activities available to keep you entertained before you return home or continue traveling without us.
Guided Tour Bordeaux, Medoc Masterclass & Wine Tasting - Boat Cruise Group Dinner, Hotel Vatel Bordeaux



Day 9- Departure
It is time to leave Bordeaux and return home with new friends, great memories, and plenty of stories! A private chauffeur will drop you off at the airport or train station in the morning. We hope we will have succeeded our mission of sharing our culture and region for the French trip of your dreams, full of good times and smiles, and that you will join us again on one of our other tours!
Departure for your train or plane before noon.

2023 ADD-ON - Extra Day Bordeaux
Self-Guided Bordeaux: Cite du Vin Ticket + Extra Night Hotel Vatel + Breakfast

($360 for 2ppl sharing room or $310 solo traveler)
With so much to see and do in Bordeaux (read our blog about Bordeaux here), we highly recommend staying an extra day in Bordeaux if possible. This would be the perfect way to end your trip allowing you some free time to do and see what you please.
We have included a ticket to La Cite du Vin in your package, which is the best wine museum in the world. This museum brings wine to life with immersive experiences that explain the history, arts, techniques, types, and more! It is a unique and technologically advanced museum that shows and explains everything about wines in the past and present. This grand homage to the drink that France is famous for and the one of a kind experience you get here makes it a must see when visiting Bordeaux. Your ticket also includes a glass of wine at the Belvedere space located on the 8th floor with a 360 view on Bordeaux and the Garonne river!
Other recommended activates are: Les Halles Bacalan a covered food market located just across from La Cite du Vin. (Perfect for coffee or lunch, people watching, food discoveries) // Food Walking Tour with local guide Anne Jordan (very fun way to discover more of Bordeaux) // Cathedral of Bordeaux, you could climb the 229 bell tower steps to catch incredible views of the city 6euros/pers. must book ticket in advance here // Relax on the grass of the Jardin Publics with some market food and a bottle of wine // Join a guided half day trip to Medoc Wineries // Wine Bars in town (Le Bar a Vin, Le Vertige, Aux 4 Coins du Vin, and Le Métropolitain) // Crossing the "Pont de Pierre" at sunset // Shopping at Rue St Catherine or Rue Notre Dame // Bordeaux Canelé Baking Class // Musee d'Aquitaine // Musee des Beaux-Arts
Taxi ride from hotel to airport/train station not included. About 40 euros from downtown to BOD airport.