Have you heard of the "New French Riviera?"

The original French Riviera came to fame in the 50's and 60's when everyone who was someone was buying property there or vacationing there. With the word getting out about all the celebrities and wealthy people traveling to its beaches and coastal towns, everyone else started following suit. With all the buzz surrounding this area and tourists rushing to see what its all about there, another region quietly flew under the radar where the French went on vacation, and who would better know where to travel in France than the French themselves? While all the summer tourists are still scrambling to cram into the French Riviera for the beaches and bragging rights, the French are nearby enjoying the same pleasures and more! All without the crowds of outsiders. So where is this place that the French have kept quiet about all these years? Well here it is:
The coastal regions of Occitanie & Provence are the "New French Riviera"
This sun-drenched region is the perfect vacation spot for anyone wanting to travel to France because it has everything you ever wanted to experience in France in one region. Sandy beaches on the Mediterranean Sea, waterfront restaurants, picturesque landscapes, incredible bistros and creperies, excellent wineries, gorgeous chateaux and castles, medieval villages, magnificent Roman relics, lavender fields, perfect weather, warm local culture, and of course the famous cheese and charcuterie. The only thing it is missing is the Eiffel Tower!
From the countryside to the coast, Occitanie and Provence have everything you could possibly want. It is easy to see why this region is the complete French destination if you really want to experience the real France and hard to see how the French kept it secret for so long!
Discover the 15 best places in South of France that make the "New French Riviera" so special:
The Coast
The coastal areas of the South of France have much to recommend them, ranging from diverse natural wonders to Roman ruins. Travel to areas like Nimes and Montpellier to experience all that this region has to offer.
• Aigues-Mortes & Camargue
Aigues-Mortes is a charming fortress city worth visiting for its ancient ramparts and medieval artifacts. It is located in the Camargue, a natural region known for its marshy fields, pink flamingos, and roaming white horses. Aigues-Mortes was once an embarkation point during the Crusades, and the city is filled with evidence of its history. There is the Tour de Constance, a tour built to guard the town, and the ramparts, which go on for 1,634 meters. Beneath the town is the Mediterranean's oldest salt march, which sometimes imbues the marshes with a pink hue.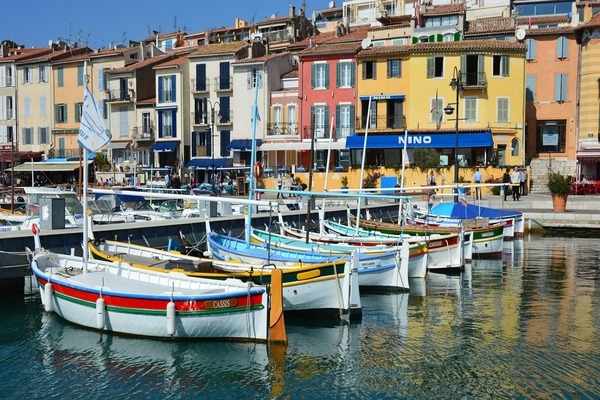 • Cassis
This small fishing village is sure to improve any holiday in the South of France. Visitors can explore the Calanques, which are small coves which can be reached by foot or boat. This town is also home to Cap Canaille, a seaside cliff that offers extraordinary views of vineyards and the Gulf of Cassis. Don't leave without sampling some bouillabaisse. This is the dish the region is famous for, and locals take it seriously: there recipe is outlines in the Marseilles Bouillabaisse Charter. While eating this local dish, which is made with at least four fish, make sure to try a wine from one the town's local vineyards. Cassis is also home to a charming local market, and visitors love roaming through the stalls and buying candies and other sweet treats.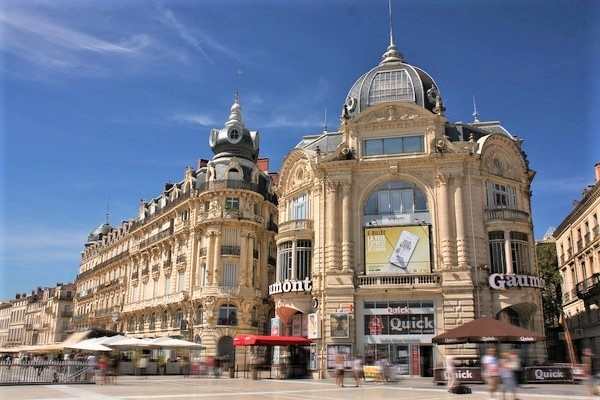 • Montpellier
If you're searching for style, look no further than Montpellier. This elegant metropolis in the South of France has everything from white sand beaches to private mansions. Art lovers should go to the Musee Fabre, a wonderful gallery that features painting by old masters, modern art, and pieces of decorative art. The area is also home to France's second largest zoo, the Montpellier Parc Zoologique. It features a varied population of animals, which include Atlas lions, a white rhinoceros, and more. For more wildlife, check out the Aquarium Mare Nostrum. It has a number of interactive displays and over a dozen aquatic environments.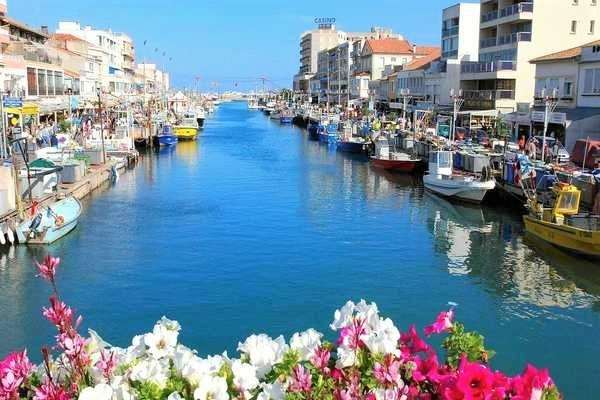 • Palavas-les-Flots
Palavas-les-Flots is a beautiful seaside resort only 20 minutes from Montpellier. While Palavas is often compared to the maritime town of Sète, Palavas offers travelers more to do. A charming harbor overlooks sandy beaches, and beach activities include water skiing, water jousting, and scuba diving. Visitors should also take a trip to the Cathedrale de Maguelone. This stunning cathedral was built in the 11th century, and it is filled with altars, carved funeral stones, and more. Other Palavas sights include the Parc du Levant and the Casino de Palavas. This is the town that TripUSAFrance chose for their home based hotel for their small group tours. A beautiful boutique hotel by the beach. What else could you ask for?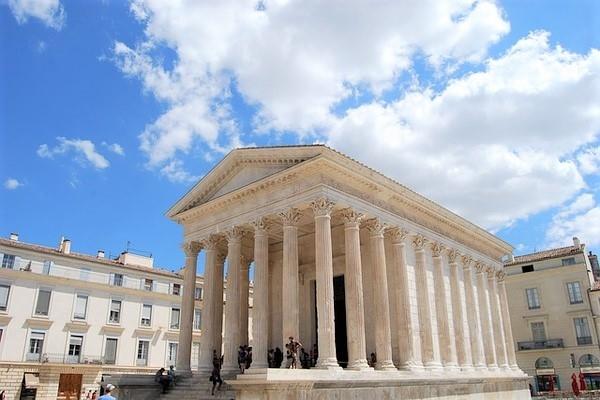 • Nimes
This city in the South of France is home to an impressive collection of Roman buildings and artifacts. Perhaps the city's best known attraction is Les Arenes, a twin-tiered amphitheater that once staged gladiatorial contests. Today, it's a venue for musical performances and bullfights. Other local attractions include the Jardin de la Fontaine, a stunning park that features the Temple de Diane, the Source de la Fontaine, and a wealth of beautiful flowers and plants. The Maison Carree, a temple built to honor the sons of Emperor Augustus, is another popular Roman artifact. Beyond its Roman history, Nimes is famous for its annual festivals, interesting markets, and lovely, palm-lined streets.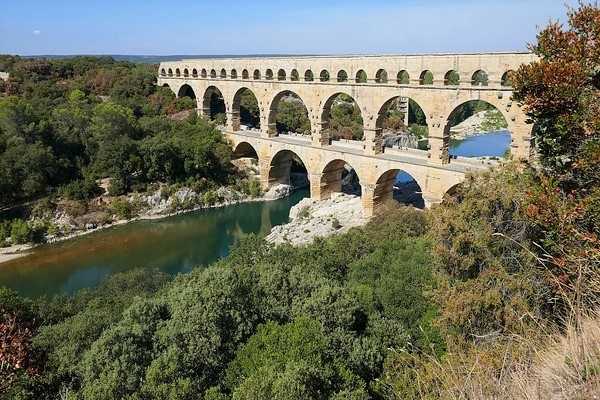 • Pont du Gard
Just outside the town of Vers-Pont-du-Gard is the ancient Roman aqueduct known as the Pont du Gard. This stunning monument was built to bring water to the region of Nemausus, now known as Nimes. This bridge has three-stories, and it is constructed out of yellow limestone blocks. It weighs more than 50,000 tons. This aqueduct stands as a symbol of Roman ingenuity, and travelers interested in history are sure to marvel at its impressive construction and aesthetic beauty.
Let Us Show You the South of France!
The South of France is a wonderful travel destination. From the beautiful white beaches to world-renowned museums, this area has something for every kind of traveler. The restaurants and local culture are second to none. If you want to experience the tiny medieval towns and seaside resorts like a local, consider embarking on a small group tour. Trip USA France offers tours given by local tour guides, providing visitors with an inside look at this beloved travel destination. We'll help transform your trip into the visit of a lifetime.
Provence
For years, travelers have flocked to the region of Provence to see its narrow streets, beautiful buildings, Roman ruins, and other treasures. Part of the charm of Provence, however, is its idyllic, slow-paced lifestyle. When visiting the region, make sure to take time to wander aimlessly and explore Provence like a native.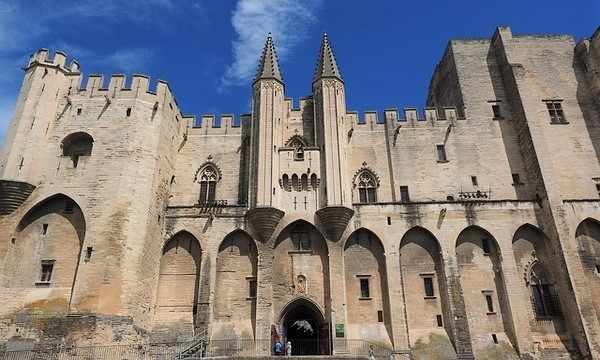 • Avignon
This town was once the seat of papal power, and evidence of Catholic influence still abounds. There is the Palais des Papes, an enormous Gothic palace that speaks to the medieval power of the Catholic Church. This impressive edifice is filled with beautiful frescos, countless chapels, and more. Fans of Gothic architecture are sure to be impressed by the immense scale of the Palais, which is an official World Heritage site. Avignon is also home to a number of excellent museums, including the Musee du Petit Palais, the Musee Angladon, and the Musee Lapidaire. Many Impressionist treasures can be found in this area. If you're a fan of theater, make sure to visit Avignon during the month of July. This is when the town holds the annual Festival d'Avignon, one of the most important arts festivals in the world. 
• Aix-en-Provence
Aix-en-Provence is one of the chicest places in the South of France. This fashionable area is filled with 18th century mansions, bustling boulevards, and well-kept public squares. It's sure to delight people interested in the history of French architecture, and many of the local hotel particuliers have been transformed into museums. The Caumont Centre d'Art, which once housed the Marquise de Caumont, is certainly worth a visit. Art lovers should head to the Musee Granet, which houses work by famed artists like Monet and Matisse. Visitors interested in WWII history should take a trip to the Camp des Milles, a tile factory that was turned into a concentration camp during the war.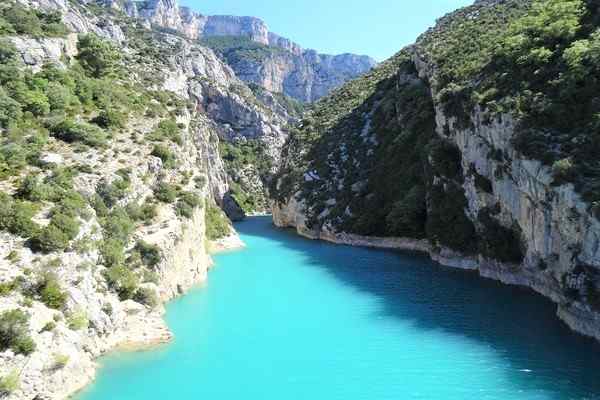 • Verdon Gorges
This area is one of the most popular attractions in Provence. The Verdon Gorge is an enormous calcareous rock canyon, and visitors from the world over are stunned by the impressive vista. This deep cliff is found in the middle of a nature reserve that also boasts flora and fauna. There are many available activities in the Verdon Gorge area, including sailing, paragliding, kayaking, mountain biking, and horseback riding.war.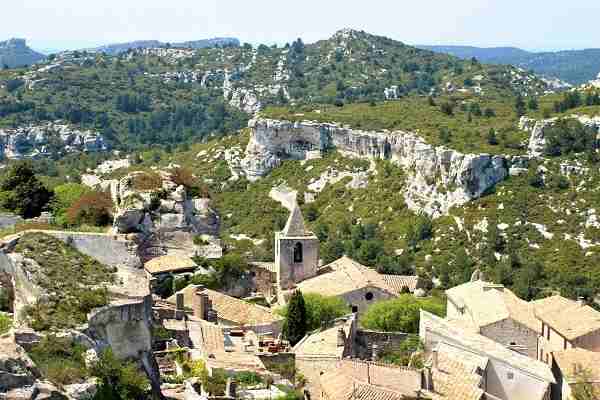 • Baux-de-Provence
A tour of beautiful villages in France would be incomplete without a visit to Baux-de-Provence. This charming medieval village is located along the Alpilles mountains, and there is a ruined castle perched atop the mountain range. Visitors should also check out the Carrière Lumières. This performance group hosts immersive multimedia shows in the area, which utilize 3D audio, dozens of video projectors, and more.
The Countryside
The South of France is home to many beautiful sights. Perhaps none are so striking as the lush vistas provided by the countryside. Ranging from stunning religious relics to verdant valleys, this area has something for everyone.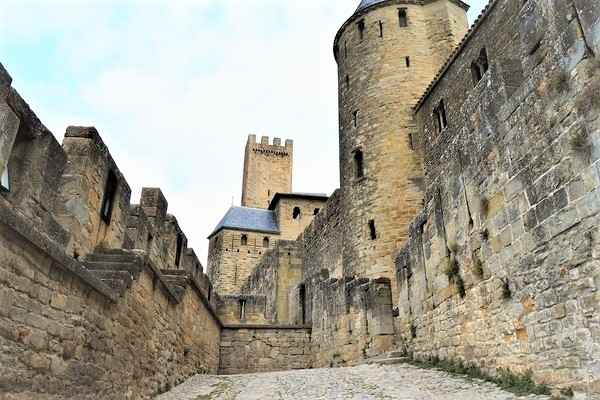 • Carcassonne
There are two parts of Carcassonne. There is the ville basse, or lower city, which is home to a number of sights, restaurants, and hotels. There is also the Cite de Carcassonne, Julia's favorite, a stunning medieval fortress composed of 52 towers and 2 miles of ramparts. This fortified city is one of UNESCO's World Heritage sites, and it is filled with medieval charm. Visit the Basilique St-Nazaire, a basilica first constructed in the 11th century. There is also the Château Comtal, a medieval keep built for 12th-century viscounts. Carcassonne is one of the jewels of the South of France. Visitors gazing at tall turrets and well-preserved battlements often feel as though they've been transported back in time. Carcassonne should definitely be on your bucket list!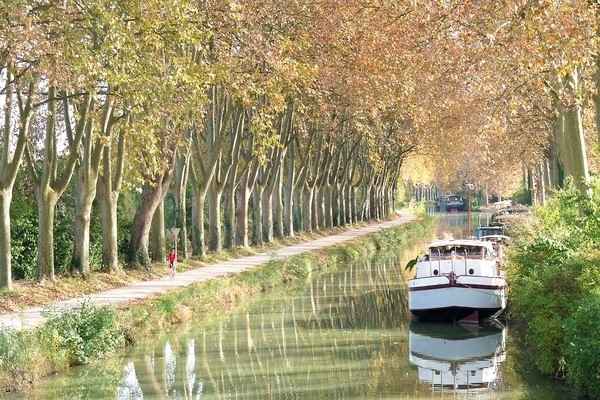 • Canal du Midi
If you're in the mood for breathtaking landscapes, visit the Canal du Midi. This is the most famous inland waterway in the South of France. It snakes through the French countryside, giving travelers the opportunity to see beautiful areas. Many travelers choose to take a cruise down the Canal du Midi. Crusie goers will spot medieval architecture, sandy beaches, stunning fortresses, and much more. They will also notice the structures along the canal. There are more than 300 tunnels, bridges, and locks.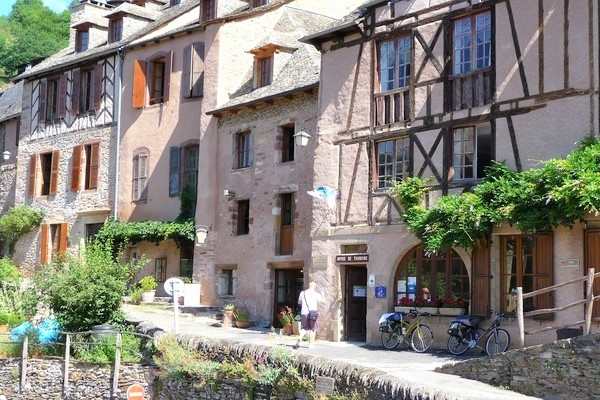 • Conques
With its scenic rivers and lush valleys, this beautiful medieval village is surrounded by natural beauty. It also boasts charming architecture, and visitors often enjoy roaming through streets lined with half-timbered houses. One of the major attractions is the Church of St. Foy, a Romanesque church built in the 11th century. People interested in architecture will notice its arches and barrel-vaulted nave.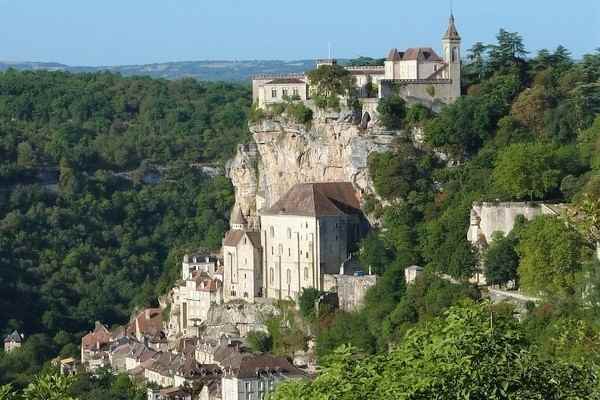 • Rocamadour
This cliff top village in the South of France is famous for the Cite Religieuse, a popular pilgrimage site. The town is situated above the River Dordogne, and boasts spectacular natural views. The religious buildings include the Chapelle Notre-Dame, which houses a notable Black Madonna statue. Visitors also enjoy the nearby Gouffre de Padirac, a stunning cavern that can be explored by foot and boat. It is actually the most popular underground tourism site in all of France.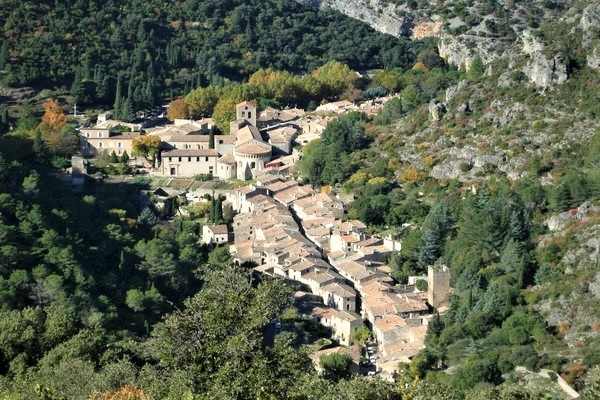 • St-Guilhem-le-Desert
This lovely village is located in the Gellone Valley. Steep cliffs and rugged landscapes surround the little town, and the wild natural surroundings only emphasis its beauty. The main attraction is the Gellone Abbey, a Roman church that houses a picturesque cloister, various 18th century artifacts, and a museum. History buffs will also enjoy the Tour des Prisons. This tower, built in the 12th century, was an integral part of the town's original fortifications. When walking through the village, make sure to check out the Place de la Liberte. This charming town square is lined with lovely old houses and filled with quaint shops. It's the perfect place to take a stroll.
Sharing is caring!
Let Us Show You the South of France!
The South of France is a wonderful travel destination. From the beautiful white beaches to world-renowned museums, this area has something for every kind of traveler. The restaurants and local culture are second to none. If you want to experience the tiny medieval towns and seaside resorts like a local, consider embarking on a small group tour. Trip USA France offers tours given by local tour guides, providing visitors with an inside look at this beloved travel destination. We'll help transform your trip into the visit of a lifetime.