[DISPLAY_ULTIMATE_PLUS]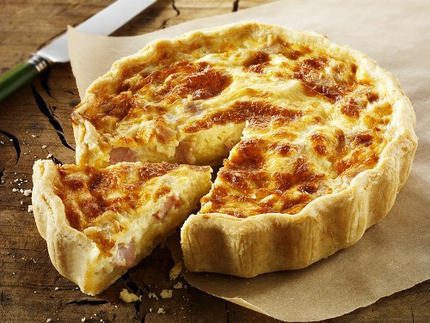 French Recipe: Quiche
La quiche is a very easy and delicious French recipe. Make your own today and share your pictures with us on Instagram @Tripusafrance
Ingredients (for 6 people)
– 150 g bacon (plain or smoked)
– 1 pie crust pastry
– 3 tablespoons sour cream
– 3 tablespoons flour
– 3 glasses of milk
– 3 eggs
– 6 oz grated swiss or gruyere cheese
– Salt, pepper, nutmeg
Preparation
• Preheat the oven to 250 F  for 10 min.
• Fry the bacon in a skillet without fat and reserve.
• Spread the dough on parchment paper in a 9-inch pie plate, prick some holes with a fork.
• Pre-cook the dough for 10 minutes.
• In a bowl, mix evenly eggs and flour, then add the cream and milk. Season with salt, pepper and nutmeg.
• On the precooked dough, spread the bacon and cheese and pour the contents of the bowl.
• Set the oven to 410 F.
• Then bake for about 30 minutes.
Bon appétit !
Come with us to Southern France on our tour and discover the French cuisine even more.
See are all small group tour package here >